Boeing's commercial 737 Max just crashed twice in a span of three months. WOW Air went bankrupt last week, stranding several thousand passengers. Hundreds of planes were grounded on Monday due to a computer malfunction. And oil prices are going up.
Still, airline stocks are some of the best buys on the market right now. And you can cash in while less savvy investors overreact to the negative headlines.
Boeing's two crashes of the same model are nothing short of alarming. But there's a reason commercial plane crashes make international news – they are extremely rare.
While Boeing worked to patch the software responsible for the damage, a spate of bad news involving airlines might have tricked some investors into avoiding the industry.
Really, apart from the Boeing scandal, many of the stories coming out of the airline industry are business as usual.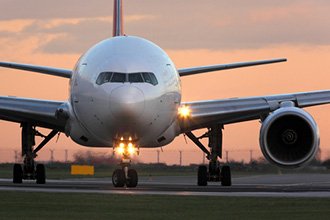 Bankruptcies, for instance, are almost an airline tradition. The industry has a cutthroat past – over 40 major airlines have either gone bankrupt or have been acquired in a merger over the last 20 years.
All that means, though, is airlines that are poorly run simply stop running.
And airports do experience the occasional technical difficulty, and it results in delays – possibly delays far longer than the ones experienced last week. That says nothing about the health of the airline industry or about your chances investing in it.
Long story short, these items are not news.
But because the problems with Boeing's 737 Max 8 jets have hit the major airlines, it's worth taking a deeper look at just how rare these problems are.
Plus, we'll also show you why Warren Buffett is pouring money into airline stocks right now – and how you can follow suit with our top pick…
Safety First
Let's get one thing out of the way: The value of an airline stock doesn't depend on the trustiness of aerospace technology anymore. Just look at Boeing (an airline supplier), whose shares dropped 14% from $422 to $364 from March 10-22, after its second crash in months – it's already begun its rally, back up to $386 today.
Aviation data company FlightAware reported there were almost 10,000 aircraft in the sky at any given time in 2017 – over 1 million passengers. That same year, there were also just two fatal commercial plane crashes worldwide.
Similarly, for 2018, To70, an Aviation Consulting firm, estimated a rate of 0.36 fatal accidents per 1 million flights for 2018. With cars, the number is 147 per 1 million. That means the ratio of auto fatalities to plane crashes in a year is 408 to 1.
So Boeing's two crashes within three months of each other is a huge anomaly.
The company has since patched software on the malfunctioning sensors that it speculates led to the crash. And its stock is on the rise.
This only reaffirms that the question of a stock's future profitability for investors will always come back to management staying on message and profitable. Just classic investing.
That's why this classic investor felt safe putting more money into airlines recently…
Why Warren Buffett Likes Airlines Again
Warren Buffett upped his share of Delta Air Lines Inc. (NYSE: DAL) in March.
That's the same Warren Buffett who snubbed the industry in a 2007 shareholder letter from Berkshire Hathaway Inc. (NYSE: BRK.A).
"The worst sort of business is one that grows rapidly, requires significant capital to engender the growth, and then earns little or no money. Think airlines. Here a durable competitive advantage has proven elusive ever since the days of the Wright Brothers. Indeed, if a farsighted capitalist had been present at Kitty Hawk, he would have done his successors a huge favor by shooting Orville down."
He could have said this yesterday, based on how bleak headlines around the commercial aviation industry have been.
So why's Buffett now piling money into airline stocks?
5G Could Mint a New Wave of Millionaires: The greatest tech shift in generations could be about to create untold wealth for investors. To find out how you could capture a life-changing SIX-figure windfall, go here now.
In a 2017 interview with NBC, Buffett said, "It's true that the airlines had a bad first century… and they got that century out of the way, I hope."
Even after the Boeing crashes in March, he insisted, "Airline travel – it's almost impossible to believe how much that's improved in terms of safety during my lifetime."
The difference between 2019 and 2007 is that the state of the art has drastically changed. A few industry leaders have settled into their operations after a post-merger adjustment period, and the technology behind planes is so advanced, it's made the question of flight safety irrelevant to market sentiment.
Delta merged with Northwest Airlines in 2008, and since then, it has become one of the most valuable and efficient airlines in the industry. American Airlines Group Inc.'s (NYSE: AAL) merger with U.S. Airways took place in 2012, and they managed to integrate their operations seamlessly.
These mergers led to record profits for two of the best airlines in the industry. Profit increased for American Airlines by $1.5 billion a year later, and DAL stock price has almost tripled in the time since the Northwest merger.
And they are still two of the best airline stocks you can buy right now.
In fact, our proprietary Money Morning Stock VQScore™ system gives these stocks both strong "buy" ratings.
American Airlines is one of the industry leaders to finish recovering from a merger with U.S. Airways. Today, the airline is in full swing.
American dishes 6,700 flights per day, and the company's size also works in its favor. It boasts profits of $1.9 billion, with greater reach and deeper roots than any other airline firm in the United States.
AAL has a VQScore of 4.45. That means it's due for a significant price bump very soon.
Optimistic analysts predict a price jump of 81% from today's $33, to $60. But investors get paid regardless, because this stock also pays a 1.24% dividend yield.
Buffett already owned shares of American Airlines and Delta, but he more recently raised his ownership to 18% of Delta's available shares.
Buffett announced later he didn't mean to raise his stake that high – usually targeting no more than 10% ownership of a company. But after miscalculating and going beyond 10%, he bought more and landed on 18%.
And there's something to this.
Buffett said he liked the thinking behind Delta's stock repurchasing program. He liked that they had borrowed a $1 billion to accelerate the buyback of outstanding shares, to give the investors their due and adjust earnings per share to meet analyst targets over $6, according to FactSet.
The Delta stock is up 15% almost a month after the day Berkshire Hathaway paid $265.2 million for 5,368,956 additional shares of the company. The company is almost up to its year-over-year high of $60.71.
The stock's VQScore of 4.75 agrees with Buffett, signaling you should buy right away.
But there's still one other stock leading the charge – the always-profitable winner of the airline game, most likely to make you money in the long run.
This next airline is the most customer-friendly, which has made it the most consistently profitable for decades.
Its price has blown up 140% in the last five years, but some analysts predict it could still go up more than 50% this year alone.
And with its market position, culture, and airtight operations, this airline stock will keep soaring over the long term.
Here it is…
The Best Airline Stock to Buy Now
Join the conversation. Click here to jump to comments…
About the Author
Mike Stenger, Associate Editor for Money Morning at Money Map Press, graduated from the Perdue School of Business at Salisbury University. He has combined his degree in Economics with an interest in emerging technologies by finding where tech and finance overlap. Today, he studies the cybersecurity sector, AI, streaming, and the Cloud.