Tesla stock is in the most trouble its ever been in, and Elon Musk's increasingly erratic behavior is just another sign of the company's coming decline. Fortunately, it's also something you can turn into profits.
In the chart we'll reveal below, you can see exactly how Tesla's share price is losing momentum and the price level we expect it to plunge below.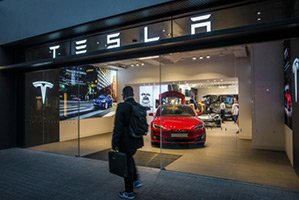 Musk was truly a visionary entrepreneur and created companies in what can only be described as the coolest of the cool. From Tesla Inc.'s (NASDAQ: TSLA) electric cars and batteries, to SolarCity's renewable clean energy, to Space-X's reusable rockets and the mission to Mars, who could not envision comic books with him as the hero?
But then the real world came knocking. Production snags, exploding cars, and missed earnings were just the scratching the surface of what is wrong with a company that may just be a house of cards ready to fall.
In fact, Musk's latest antics might simply be a distraction from the very serious problems Tesla stock faces right now.
Here's why Musk might be in over his head - and how you can turn that into profits...
The Bears Might Finally Be Right About Tesla
Elon Musk has become a sideshow act, but Tesla is facing real financial jeopardy.
As smart as he is, Musk cannot keep out of the headlines, let alone stay out of trouble with the authorities. Smoking pot during an interview or defaming one of the rescuers of the boys in the cave in Thailand might make investors a little uncomfortable. But Musk's tweets have put him in legal jeopardy.
7-Day Cash Course: With the secrets in this video series, you could potentially start collecting anywhere from $1,190, $1,313, and even $2,830 in consistent income - each and every week. And it can be yours for only $1...
The U.S. Securities and Exchange Commission was not amused with his unfounded claim that the company would go private at $420 a share, and it took action. Now Musk must have lawyer vet and approve his tweets before sending them. So far, he hasn't listened, creating a new showdown with America's securities regulator.
That's some serious grief, but Money Morning Capital Wave Strategist Shah Gilani sees a few things that are more immediately troubling for the company.
For example, Tesla was on the hook for $920 million on a convertible bond it hoped investors would convert to shares of stock. The conversion price only made sense if shares traded above $359, but they were about $60 below that level on the March 1 conversion date.
That was quite a hit to the company's coffers. In fact, the payout to convert the bonds was about a quarter of all the cash they had on hand. And cash flow has been a perennial problem for Tesla, especially as prices on cars have been cut twice in the past six months.
But there is so much more. Sales are way down since the tax credits buyers relied on were cut in half to $3,750 in January. They'll run out completely by mid-summer, and the company already laid off thousands of workers.
The fundamentals are downright scary too. The current trailing price/earnings ratio is -47.7. Income per employee is negative $20,000. It's no wonder Morgan Stanley (NYSE: MS) cut its price target from $260 to $240 on Monday.
Think about that for a moment. These are price targets for a year out, and the stock closed Tuesday at $272.31. Morgan Stanley isn't alone either. Thirty-five percent of analysts covering Tesla give it a "Sell" or "Underweight" rating.
Considering Tesla, a company that shipped 100,000 cars, was recently valued more than General Motors Co. (NYSE: GM), which shipped 9.6 million cars and trucks in 2017, we can see where the market got way ahead of itself here.
Remember back in the Internet bubble days, when travel agent Priceline.com, which has since been refocused as Booking Holdings Inc. (NASDAQ: BKNG), was valued at more than all the airlines combined? It did not end well for Priceline at the time, as the stock lost 99% of its value.
Seasoned investors do not forget things like this. And the sentiment surrounding Tesla and its CEO are starting to chase new investors away.
The technical indicators agree, too. The chart below shows the choppy trading we've seen over the past two years, but as it went mostly sideways, money fled en masse. The indicator at the bottom of the chart is called on-balance volume, and it measures how many shares change hands when the price is going up and when it is going down. More volume on up days suggests money flowing into the stock.
As we can see here, money has been draining away for much of the two years shown. That means supply for shares is greater than demand. And if support at $251 is broken, you can bet that the sellers will flood the market, falling all over themselves to get out.
Take a look...
[mmpazkzone name="in-story" network="9794" site="307044" id="137008" type="4"]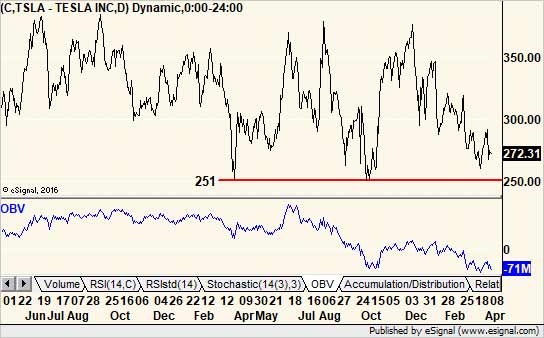 Tesla stock is in trouble. This one should make the bears a mint over the next few months.
You can always short the stock, but that's a strategy that comes with substantial risk. Your theoretical loss potential is infinite if the stock somehow breaks higher.
But savvy traders use stock options to profit off a stock's downward momentum. These have less risk - you're only on the hook for the cost of the contract - and excellent upside.
And you can learn all the ins and outs of profitable options trading right here...
You Can Learn How to Trade Like the Pros - for Just $1
America's No. 1 Pattern Trader, Tom Gentile, is giving you a rare opportunity to learn how to amass a constant stream of extra cash - year in and year out.
And he's going to teach you how to do it entirely on your own.
People have paid up to $30,000 to access his secrets... but it can all be yours for only $1.
Go here to claim your seat in America's No. 1 Pattern Trader Cash Course...