After 10 years of the longest bull market ever recorded, finding stocks with breakout potential is getting more difficult by the day. But investors in the top penny stock to buy shouldn't worry, because penny stock investing offers huge growth potential no matter what the broader market is doing.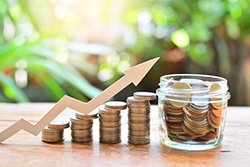 The definition of a penny stock, according to the U.S. Securities and Exchange Commission, is a stock that sells for $5 or less. As a result, even small changes in prices to the upside can result in enormous increases in their share prices.
In the last week of March, one of the top penny stocks to buy was Jaguar Health Inc. (NASDAQ: JAGX). It climbed $0.17 during heavy trading.
Does $0.17 seem like a minor gain? In a $100-per-share stock, it wouldn't even register. But Jaguar Health was trading at $0.16, so investors made 105% on the week.
The same was true for Dare Bioscience Inc. (NASDAQ: DARE). Shares rose more than 52% to close at $1.68. The third best performer to end March, Estre Ambiental Inc. (NASDAQ: ESTR), gained nearly 76% to close at $1.97.
Investors who choose the right penny stock to buy can see their portfolios grow robustly.
5G Could Mint a New Wave of Millionaires: The greatest tech shift in generations could be about to create untold wealth for investors. To find out how you could capture a life-changing SIX-figure windfall, go here now.
Now, penny stocks are a volatile asset class, and investors need to realize this. They offer more reward, but also more risk. Investors should place no more than 2% of their overall portfolio in penny stocks.
For those who know the risks and are looking to add the spectacular upside available to penny stocks, we've got you covered.
The top penny stock to buy this week has the potential to skyrocket 110% higher, and yet it can be purchased for pennies over $2 per share.
The Top Penny Stock to Buy This Week