By now, you know that Big Data stocks can be enormously profitable. But you also know that privacy concerns have made them subject to increasing scrutiny. The next scandal or next new law could make their shares nosedive with dim prospects for recovery.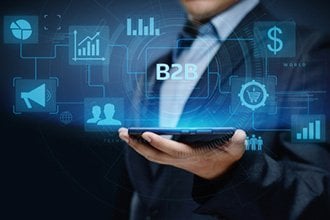 Our Big Data stock pick today sidesteps that issue. And it could easily make you 80% if you buy in today.
This company is not collecting information about your personal Internet searches, the grooming products you've bought, or where you've been today.
And there's no reason to suspect this company is listening to your private conversations, either.
Instead, this Big Data company specializes in business-to-business technology. It connects businesses that buy IT solutions with those that sell IT solutions. In other words, it provides services that its customers actually want - and are willing to pay for. No underhanded, invasive tactics necessary.
Best of all, the market is totally overlooking this stock.
Sign up for SMS so you never miss special events, exclusive offers, and weekly bonus trades.
Brace Yourself: The 5G revolution is unleashing your next potential trillion-dollar opportunity - go here now.
This B2B firm's customers include some of the biggest names in tech services: Amazon.com Inc. (NASDAQ: AMZN), Microsoft Corp. (NASDAQ: MSFT), Alphabet Inc. (NASDAQ: GOOGL), Intel Corp. (NASDAQ: INTC), Cisco Systems Inc. (NASDAQ: CSCO), and over 1,300 others.
The platform connects those vendors with a network of more than 20 million corporate IT buyers, who sign up to research their prospective purchases.
That's where Big Data comes in.
Thanks to its advanced artificial intelligence, our pick is able to identify not just what IT services its subscribers are looking to buy, but also when they are ready to pull the trigger on the purchase.
As a result, vendors are able to market their solutions with pinpoint accuracy, lowering their marketing expenses and raising their sales at the same time.
Given that global IT spending is approaching $4 trillion a year - double the GDP of Canada - it's obvious this type of Big Data is in high demand.
And our pick is head and shoulders above its competition in the field.
To top it off, this stock has also been given a top score by our Money Morning Stock VQScore™ system.
That means there's no better time to buy than now...
This Firm's One-Two-Three Punch Puts It at the Forefront of a $3.8 Trillion Industry
Join the conversation. Click here to jump to comments…
About the Author
Stephen Mack has been writing about economics and finance since 2011. He contributed material for the best-selling books Aftershock and The Aftershock Investor. He lives in Baltimore, Maryland.