Although the yield curve remains stubbornly flat despite the economy's emergence from post--financial crisis malaise, bank stocks are on the verge of an upside breakout.
But don't take our word for it, the Oracle of Omaha himself - Warren Buffett - just said in a recent interview, "I think, 10 years from now, that they'll be worth more money. And I feel there's a very high probability I'm right."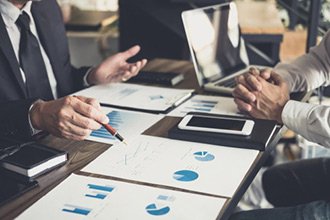 Buffett is no stranger to banks. He's owned a piece of Wells Fargo & Co. (NYSE: WFC) for 19 years. And recently, he took some big chunks of some of the other big and well-known banks, including Bank of America Corp. (NYSE: BAC), Goldman Sachs Group Inc. (NYSE: GS), Bank of New York Mellon Corp. (NYSE: BK), and PNC Financial Services Group Inc. (NYSE: PNC).
Now, JPMorgan Chase & Co. (NYSE: JPM) is the ninth largest stock in his holdings.
Don't forget that Buffett swooped in with a post-crisis rescue package for Bank of America, buying $5 billion in preferred stock with an above-market 6% annual dividend. In 2017, Buffett cashed them in for a cool $12 billion profit, and that does not even include the dividends.
It's no wonder banks hold a dear place in his heart.
That's why we're following his lead and digging into the banking sector to find Buffett-like profits...
How to Invest Like Warren Buffett
The good news is that any investor can invest like Warren Buffett by owning one the best bank stocks.
And to help you find the winners, we're turning to the Money Morning Stock VQScore™. The VQScore tells us which stocks are great buys right now, meaning they are top-notch companies with stocks ready to break out to the upside.
Free Book: Discover 61 ways to potentially triple or quadruple your monthly income. To learn how to claim your copy of "The Book of Crazy Big Income" at no cost, click here now...
In fact, some of Buffett's favorites made the VQ cut, confirming that his thesis is on the right track. And it's no wonder, because banks are in the strongest position they've been in in a long, long time.
Banks are much safer then they were a decade ago. None failed stress tests last year, and the list of problem banks shrunk considerably. Further, the FDIC reported last year that 96% of all banks made a profit.
You might not find a more profitable industry.
But that hasn't stopped Wall Street from getting pessimistic about banks. A flat yield curve can be a drag on bank earnings. This is because they borrow at short-term rates, such as the Federal Funds rate, and lend at longer-term rates, such as the 30-year mortgage rate. They make their profit on the difference between the two, so when short-term rates and long-term rates are close together, their profits can get squeezed.
But then again, low overall interest rates, especially long-term rates, are the wind in the sails of the housing industry. Bank profits may be lower, but transaction volume can be stronger, keeping their balance sheets happy.
The U.S. Federal Reserve has all but guaranteed that it will not raise short-term rates this year, and that is actually a good thing for banks. Don't forget that while the Fed controls short-term rates, it is the market that controls long-term rates. There may be an emotional spillover of Fed moves into the long end, but that is not a real factor.
This is a chart of the benchmark 10-year Treasury yield going all the way back to the peak we saw in 1981. As we can see, the bearish trend in rates is close to ending.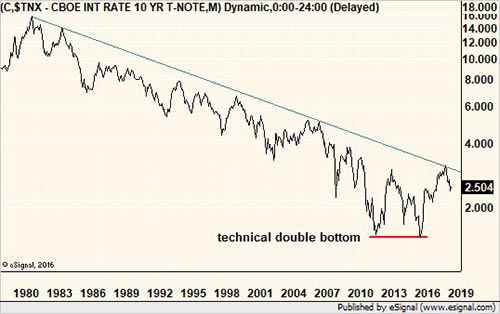 Chart watchers note the double bottom in 2012 and 2016, which suggests that was the floor, and lowest levels we will see in a generation. In other words, it won't take much to change this trend from long-term bear to long-term bull. It is already intermediate-term bullish from 2016.
That's why we're following Warren Buffett's lead instead of some junior analyst on Wall Street.
And we've uncovered a banking stock with serious upside potential.
In fact, it's currently our highest-ranked banking stock and our sixth highest-rated stock overall. That's out of 1,500 total stocks that earn a VQScore...
This Is Our Best Banking Stock to Buy Now
[mmpazkzone name="in-story" network="9794" site="307044" id="137008" type="4"]
Fortunately, you have many choices in the bank sector besides the big banks on Wall Street.
Despite their prospects, behemoth companies just cannot move as quickly as small ones, and right now, our favorite of the VQScore list is Southern National Bancorp of Virginia Inc. (NASDAQ: SONA).
In fact, its been a top-25 stock for the past four weeks, proving it is not a flash in pan.
SONA operates through its subsidiary, Sonabank, targeting small- and medium-sized businesses and retail consumers with a wide range of commercial banking services. Its focus is on loans secured primarily by commercial real estate. It also holds a portfolio of real estate--related investments, including collateralized mortgage obligations and agency mortgage-backed securities.
That ensures it's raking in income even if the yield curve isn't where Sonabank would like it to be.
And raking in cash is exactly what this stock does. Last year alone, it grew its profits by an absurd 1,289%.
The fundaments also look good, highlighted by annual earnings-per-share growth of 20.9% for the past five years. The bank's efficiency ratio - the best metric for measuring bank performance - comes in at a sterling 53%. The lower the ratio the better, and SONA is well below the industry average of 57% - and even lower than household names like JPMorgan's 60%.
That also translates into a 2.4% dividend yield, boosting your portfolio with 60% more income than you'd get from an average S&P 500 stock.
But the most important number for us is the VQScore. Its proprietary formula crunches the numbers to tell us if the stock is a breakout candidate or not, and it ranked SONA very highly, giving it a perfect VQScore of 4.75.
Wall Street analysts project SONA could jump 36% higher over the next 12 months. That's pretty good, considering how negative Wall Street's been toward the sector.
But we wouldn't be surprised to see SONA double that prediction, surging 70% higher by this time next year.
His Winning Track Record Reveals Best Way to Beat This Volatile Market
2018 was one of the worst years for stocks since the 2008 financial crisis... but that didn't faze Tim Melvin a bit.
He joined our team with an undefeated record (he was the ONLY guy in the industry we could find with one).
Coming in hot with 119 trades and 0 realized losses, he didn't give a hoot what the market was doing. He was too busy making money.
And he's finally decided to share his secrets with you.
He's revealing his next trade recommendation on Monday morning. You don't want to miss this.