It's finally here: For investors, it's like Christmas, the Fourth of July, and a scary dentist's appointment all rolled into one.
Reporting kicks off next week, as the financials begin the parade of results - and the market is hinting that it's ready to make a seasonal move higher.
Aaaah, seasonality…
We're halfway through the month of April, which is one of the best months of the year for trading. Since 1990, the month of April has generated positive returns for the S&P 500 70% of the time. The average gain is around 1.6%, which is more than 50% better than the average monthly return for the same period.
So, I could bore you with all kinds of numbers about April's performance (and if you've been with me for a while, you know I've got the data), but that's not why you're reading this.
You're reading it to learn how to cash in for big bucks on the seasonality...
[mmpazkzone name="in-story" network="9794" site="307044" id="137008" type="4"]
The Reason for the Season: Earnings
Historically, during a bull market, the months that represent the beginning of earnings season tend to have a bullish bias. Easy enough to see why: Investors and traders pile in from the sidelines into stocks to reap the spoils of an expanding economy.
But in our case, we'll be early. The "smart money."
ACT FAST! 33 stocks could explode on April 23, potentially creating monumental new wealth. Announcements can cause price explosions of 439%, 1,530%, and even 2,150% bigger than a normal "up" day in the markets. Learn how to get my earnings playbook here…
This April looks to be ready to perform. The S&P 500 has just broken above 2,900 as I write this, and if it closes in that territory today, as it seems likely to, that's all to the good. Remember how important those round numbers are. It's a psychologically important level that would draw more traders into the market, full of fear of missing out (FOMO) on the next significant leg higher.
Similarly, as I point out often, the Chicago Board Options Exchange (CBOE) Volatility Index – the VIX – has broken below 13. This is a signal that investors have "accepted" that the market is going to move higher as they become less fearful of a sell-off.
This, of course, is good for stocks and long positions in those stocks.
Signs from the economy have been positive – almost a "Goldilocks" situation. We've seen mixed signals in terms of growth, inflation, and employment. For the time being, Goldilocks is welcome to hang out in bed and chow down on porridge. Goldilocks is good!
But there's a catch – kind of. (Why is there always a catch?)
April is historically one of those months that represents the last push of a major move higher. You know the old saying, "Sell in May and go away"? Well, there's a reason. Yes, May is one of those months that usually underwhelms from a performance perspective, but it doesn't normally mark the time to get out of the market - instead, it's a time to become more selective, what I call a "stock picker's market." It's a situation that historically has treated us very well.
Let's not worry about May just yet though, as it's time to look for the opportunities the immediate future holds.
I sent my paid-up subscribers two trade recommendations this morning, and I plan on releasing a few more between now and Tuesday as we get into position for pre-earnings action. (You can always click here to learn how to get my full earnings season research.)
Now, it wouldn't be fair to give away those trades, but I can certainly share the stocks I'm watching and expecting to make big moves. My system found 10 stocks that tend to rally 5% or more in the weeks headed into their earnings announcements. These make great intermediate-term buys and, of course, long trades.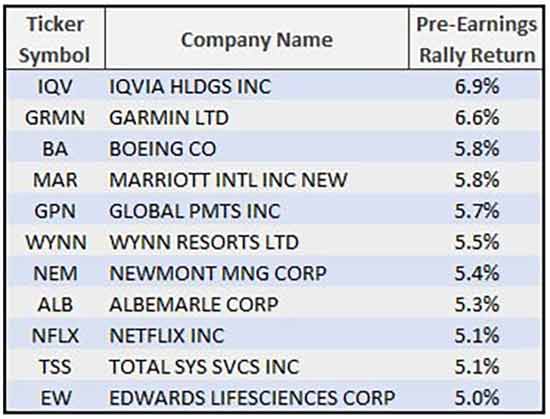 I'll be in touch with more updates as we move in to the thick of earnings season – my favorite time of year.
Quick - Get My Q1 Earnings Playbook BEFORE April 23
Hundreds of companies are set to report earnings in the coming weeks, but only one sector may be worth your time (and money). I've pinpointed exactly which stocks in that sector are the strongest – and the most likely to produce market-crushing returns – in the Q1 earnings playbook. Follow along, and you could be raking in $30,000 in the next 10 weeks. Learn how to claim your copy here.
Follow Money Morning on Facebook and Twitter.
About the Author
Chris Johnson is a highly regarded equity and options analyst who has spent much of his nearly 30-year market career designing and interpreting complex models to help investment firms transform millions of data points into impressive gains for clients.
At heart Chris is a quant - like the "rocket scientists" of investing - with a specialty in applying advanced mathematics like stochastic calculus, linear algebra, differential equations, and statistics to Wall Street's data-rich environment.
He began building his proprietary models in 1998, analyzing about 2,000 records per day. Today, that database, which Chris designed and coded from scratch, analyzes a staggering 700,000 records per day. It's the secret behind his track record.
Chris holds degrees in finance, statistics, and accounting. He worked as a licensed broker for 11 years before taking on the role of Director of Quantitative Analysis at a big-name equity and options research firm for eight years. He recently served as Director of Research of a Cleveland-based investment firm responsible for hundreds of millions in AUM. He is also the Founder/CIO of ETF Advisory Research Partners since 2007, noted for its groundbreaking work in Behavioral Valuation systems. Their research is widely read by leaders in the RIA business.
Chris is ranked in the top 99.3% of financial bloggers and top 98.6% of overall experts by TipRanks, the track record registry of financial analysts dating back to January 2009.
He is a frequent commentator on financial markets for CNBC, Fox, Bloomberg TV, and CBS Radio and has been featured in Barron's, USA Today, Newsweek, and The Wall Street Journal, and numerous books.
Today, Chris is the editor of Night Trader and Penny Hawk. He also contributes to Money Morning as the Quant Analysis Specialist.