Finding the best penny stocks to buy now can get you far in the more volatile seasons. That's why our team has narrowed down thousands of penny stocks to one pick that could earn you a 140% profit.
The same approach investors used in the bull market won't work in a pre-recession environment. With an inverted yield curve, and any other down market indicators we could be experiencing today, you may need to change your strategy. The best penny stocks could get you market-beating gains.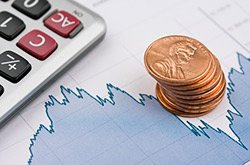 The U.S. Securities and Exchange Commission defines them as stocks that trade for $5 or less. They have the potential for massive gains because they're cheap - a small swing in price can result in huge percentage gains.
In mid-March alone, Jaguar Health Inc. (NASDAQ: JAGX) produced 105% gains for investors with a swing of just $0.17 in the share price.
But not all penny stocks have this potential. Some can cost you everything - some are outright scams or fake companies. Here are a few things to know about safely investing in penny stocks, as well as our top pick for the best penny stock to buy today.
How to Invest in the Best Penny Stocks to Buy Now
One of the first things you should do is limit your investment to companies that trade on major exchanges, like the New York Stock Exchange or Nasdaq. These are more regulated than the pink sheets or Over-the-Counter Bulletin Board (OTCBB).
Next, seek out stocks that have obtained coverage from analysts. Specifically, find stocks that have been given "Buy" or "Hold" ratings by a majority of analysts and have a one-year price target that is well above today's share price.
5G Is Coming: The Tech Breakthrough of the Century Could Rest on This $6 Stock - Get All the Details Here
Another good idea is to find companies in emerging markets, hot sectors, or a firm that could be ripe for acquisition. Some examples are technology, cannabis, oil and gas, and biotech.
Also, set a personal budget when buying penny stocks. These are considered risky investments, so you shouldn't have your entire portfolio tied up in these. Instead, limit yourself to just 2% of your overall portfolio so that you don't risk losing everything.
There are plenty of ways to both earn and lose big with penny stocks. The trick is finding the right investment at the right time.
That's why we're excited to show you our pick for one of the best penny stocks to buy now. Here's a potential 140% return...
One of the Best Penny Stocks to Buy Now