Clean energy offers investors the rare opportunity to get in early on a major new trend. To help you make the most money, we're giving you three of the best renewable energy stocks to buy today.
The U.S. renewable energy sector is expected to grow by a whopping 20% over the next five years alone. The fastest growth will come from electricity generation, where close to 30% of power requirements will be fulfilled by renewable energy.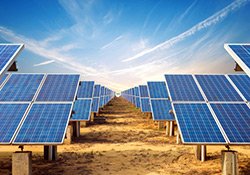 Interestingly, renewables will be responsible for as much as 70% of the worldwide growth in electricity generation by 2023.
As technologies advance and economies of scale provide for lower costs, green and cleaner energy will become a more economically attractive choice. This means that buying renewable energy stocks will put investors in the best position for future gains.
Not only are we going to show you what factors are driving the boom in the renewable energy space, but we'll also give you a list of the best clean energy stocks to buy based on the Money Morning Stock VQScore™ system.
Here's why the industry is booming...
The Catalyst for a Surge in Renewable Energy
The way that electricity is generated in the United States has changed drastically over the last decade.
According to the U.S. Energy Information Administration, coal's use for power generation has fallen drastically thanks to natural gas and renewables. Specifically, solar and wind power in the United States have soared as sources of electricity from renewable sources.
Brace Yourself: The 5G revolution is unleashing your next potential TRILLION-DOLLAR opportunity - go here now.
Larger corporate consumers of electricity are the main drivers of these trends. These are entities that are searching for the most affordable sources of renewable energy as they hedge costs and put long-term power purchase agreements in place. Today, wind and solar power are two of the cheapest sources of new energy production in the United States, lower than coal, petroleum, and nuclear power.
This is a massive trend that is continuing to accelerate as consumers look for environmentally-conscious options from the power industry as well.
Knowing this, investors looking for the top renewable energy stocks now will want to pay attention to these three stocks that have significant upside.
Here's our first play...
Best Renewable Energy Stocks to Buy Today, No. 3: HASI
Hannon Armstrong Sustainable Infrastructure Capital Inc. (NYSE: HASI) is a Maryland-based real estate investment trust (REIT) that focuses on providing services and capital to the renewable energy, energy efficiency, and other sustainable infrastructure markets in the United States.
The company's assets generally fall into several classes. "Grid-connected" includes solar and wind projects tied to the electrical grid. "Sustainable infrastructure" includes projects that involve water, stormwater transmission, remediation, and communications. And "behind the meter" refers to distributed solar, energy efficiency, and projects for energy storage.
The company has experienced stable growth and met its targets with current management. It grew annual core earnings per share to $1.38 in 2018, a growth rate of 9%, which exceeded the target of 2% to 6%. This allowed Hannon Armstrong to boost its dividend by 2% to an impressive 5.2% yield. That's double the S&P 500 averages and ensures you'll earn money from just owning the stock.
The company reported nearly $1.2 billion in transactions last year and boasted an 11.1% return on equity. This was up from 9.3% in 2014 and shows management is working to grow the company. It has current assets worth over $5.3 billion and is expanding its markets to boost potential revenue.
HASI has a VQScore of 2.75, which isn't perfect, but this is a company to watch if the score goes up at all, particularly if it enters the "Buy Zone."
The next pick is a much larger-cap stock and the most reliable of the three...
Best Renewable Energy Stocks to Buy Today, No. 2: NEE
NextEra Energy Inc. (NYSE: NEE) is a Florida-based utility company that generates and sells electricity throughout North America. Its electricity is largely generated through solar, wind, nuclear, and natural gas facilities.
Florida Power & Light Co. is one of its subsidiaries, which is a company that serves more than 5 million customer accounts. Another is Gulf Power Co., serving more than 460,000 customers throughout north Florida.
NextEra Natural Resources LLC is also a subsidiary, which is the largest generator of wind and solar power on the planet. The company also produces emissions-free, clean energy from eight different nuclear power plants in four U.S. states. The company has claimed various accolades related to corporate responsibility, sustainability, diversity, ethics, and compliance.
The company has a nearly $92 billion market cap, more than $100 billion in assets, and generates roughly 50 gigawatts of power. Since 2005, its adjusted earnings per share has grown by a compounded annual rate of 8.6%, with dividends growing by a compounded annual rate of 9.2%.
This stock has a VQScore of 3.45, which means it is an excellent renewable energy stock to buy today.
But if you want even bigger returns, don't miss our top pick...
Best Renewable Energy Stocks to Buy Today, No. 1: SEDG