When the Pinterest IPO debuted in April of 2019, it soared 42.1% from its opening of $19 a share. Unfortunately, with the Covid-19 crisis, Pinterest stock has seen a dramatic dip from its debut last year. But that doesn't mean it's not worth taking a look at…
The Covid-19 pandemic has curbed the growth of Pinterest stock and has made traders wary of investing. Considering Pinterest's reliance on advertising revenue, and the sudden drop in ad spending, Pinterest's 2020 goals are unlikely to be met.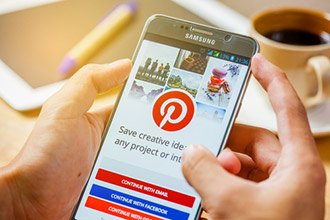 So, why should you still consider Pinterest stock?
Because people are using searching and pinning at record highs. Millions of people staying home in quarantine are turning to the pages of Pinterest to get inspiration for cooking, crafts, home schooling, gardening, and many more at-home activities.
With the surge in Pinterest searches, and the potential for lockdowns to continue into the summer months, Pinterest could continue to see long-term, beneficial growth, making Pinterest stock a worthwhile buy.
That's why it may be a long-term opportunity to keep your eye on as a high-quality growth stock.
Pinterest Stock 101
Founded back in 2010, Pinterest is a social media site where users share and post images.
While that sounds eerily similar to Instagram, there are a few key differences. Instagram is a platform to share your life through images, captions, stories, and live feeds with select groups of followers or the public. Pinterest focuses on user interests, giving them a virtual "pinboard" to organize content they find on social media, blogs, or even straight from Pinterest.
Pinterest users are known as "pinners," and once they create an account, they answer a series of questions to help gauge the type of images they'd like to see. Then, users are provided with what appears to be an endless supply of images related to their interests and arranged like tiles on their screen.
If a pinner likes a picture, they'll "pin" it to one of their boards for reference later.
The website is more or less like a virtual scrapbook and social media platform shoved into a blender. Similar to other social platforms, pinners can add hashtags to find content, or be found, but without character limits, and the likely extinct "pokes."
Some of the commonly searched and shared images are around things like fashion, architecture, food, and home decor. But with the shelter-in-place orders, searches have shifted towards board games, at-home workouts, self-care, and education.
5G Is Coming: The tech breakthrough of the century could rest on this $6 stock – get all the details here.
It's a simple enough website that's easy to navigate and genuinely offers users useful information. Let's say you're into cooking and want to find new recipes. All you need to do is look up recipes, and you'll be bombarded with an endless supply of ingredients and measurements needed for just about anything you can imagine.
This can be applied to a variety of other interests, too. If you're looking for fashion tips and examples, you'll find more than enough images to help. If you're trying to decorate or paint a room, Pinterest has your back. The examples could go on forever.
On top of that, Pinterest  is completely free. But to access the site, you need to have an account to get the ball rolling. Fortunately, Pinterest makes the entire process fairly easy by integrating Facebook and Google logins.
While Pinterest is useful, fun, and easy to navigate, it's up against some big competition. Aside from the three we listed we listed already, there are more niche ones, like Houzz, Tastemade, and Allrecipes. But Pinterest is the third-largest social network in the United States.
And Pinterest's 335 million users sounds massive – until you compare that number to Facebook's 2.5 billion.
Luckily for Pinterest, the company hasn't had to deal with any scandals – especially like Facebook's data breach back in 2017.
Beyond that, Pinterest's active user base continues to grow with 8% year-over-year growth, ahead of what many analysts predicted. And it's certainly grown since stay-at-home orders have been issued across the US.
Prior to Pinterest's IPO, the company was valued at $12 billion after receiving $1.5 billion in funds back in 2017. Post-IPO, the company is valued at around $10 billion. The firm's shareholders include Andreessen Horowitz, Fidelity Investments, Valiant Capital Management, FirstMark Capital, and Bessemer Venture Partners.
While Pinterest stock prices are lower, the unique market situation could position Pinterest as a bargain worth investing in.
Please remove the Pinterest internal link here.
We are unable to find the updated information for this section. If the MM team is able to provide us with it we are more than happy to finish revising this section.
Should You Buy Pinterest Stock?
Join the conversation. Click here to jump to comments…
About the Author
Daniel Smoot is a Baltimore-based editor who helps everyday investors with stock recommendations and analysis. He regularly writes about initial public offerings, technology, and more. He earned a Bachelor's degree from Towson University.