With the Airbnb IPO coming sometime in 2019, retail investors should not buy Airbnb stock after the IPO.
Airbnb is a home-sharing company that operates in over 191 countries. It boasts 4 million unique rental listings. And recently, Airbnb stays in Birmingham, England, and Mexico City all soared 70% to 79% higher - all while Beijing skyrocketed a whopping 90% in 2018.
Unlike recent tech "unicorns" operating on negative income like Lyft Inc. (NASDAQ: LYFT) or Uber, Airbnb is actually a very profitable company.
Airbnb certainly has a lot going for it. Techcrunch even reported Airbnb's revenue was over $1 billion in Q3 of 2018. It also showed a positive EBITDA for the second year in a row by year-end 2018.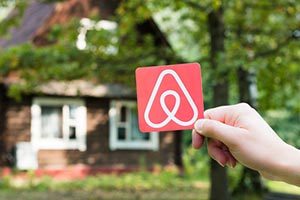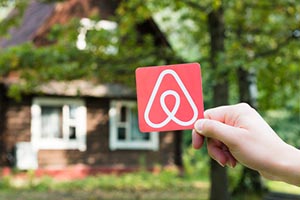 It's crazy impressive, but there's a little bit more to Airbnb than meets the eye. Before we get to that, though, here's a little bit of history...
Airbnb History and Prospects
Airbnb's inception was a little accidental. In 2007, Brian Chesky and Joe Gebbia were two roommates struggling to pay their rent. But when they noticed a conference had left San Francisco hotel rooms full, they came up with an idea. They advertised their own apartment living room with an air mattress and breakfast for guests to stay in.
Eventually, it became so popular that in 2008, they started "Airbed & Breakfast," which eventually became the Airbnb most of us know and love to use today.
The two roommates who could barely afford rent are now the CEO and CPO of a company with an estimated value of $31 billion.
5G Is Coming: The tech breakthrough of the century could rest on this $6 stock - get all the details here.
Airbnb's platform connects hosts with travelers. The latter can look at rentals, communicate with the hosts, make bookings, review them, and more from their mobile devices.
Whenever a traveler stays at a host's home, the host is charged a 3% to 5% fee. And guests are charged commissions anywhere from 6% to 12%.
Now, Airbnb is private. So, financial reporting isn't public. But what we do know is that revenue jumped 113% between 2014 and 2015. In 2017, the company's estimated revenue was $2.6 billion - with a profit of $100 million.
Some Wall Street analysts are forecasting Airbnb's revenue to reach $8.5 billion by 2021. That would be a gigantic 123% leap from its $3.8 billion in 2018.
This is especially impressive if you were to compare it to the latest tech startup "unicorn" to go public: Pinterest Inc. (NYSE: PINS). Pinterest's revenue in 2018 was $756 million. And while that sounds great, it was operating at a loss of $63 million.
But Airbnb isn't perfect, and there are certainly challenges ahead for the company...
Challenges for Airbnb Stock
Airbnb is definitely successful, but there are a few key concerns the company needs to address...
The first concern is regulation and the growing unrest among local governments over Airbnb. As travelers and home-sharers, the service seems wonderful, but the platform has reportedly increased the prices of rent, increased homelessness, and even turned once-calm neighborhoods into bustling tourist attractions. Not to mention, hotels are upset Airbnb has avoided paying tourism taxes and can operate in areas not zoned for hotels.
For example, cities like New York, San Francisco, Los Angeles, and Las Vegas have already begun to heavily regulate home-sharing - even limiting the number of days that Airbnb hosts can rent out rooms.
In Barcelona, Spain, the city is limiting the number of rentals due to the sheer level of tourists flooding in. Other cities, like Paris, feel like the number of tourists is adversely affecting neighborhood cultures.
Beyond that, places like Santa Monica and Berlin have cracked down on Airbnb. Santa Monica has effectively eliminated 80% of its Airbnb listings since 2015 by implementing tough regulations on short-term rentals. Anyone who wishes to rent out their home on Airbnb in Santa Monica must also live on the property during renters' stays, have a registered business license, and collect a 14% occupancy tax from travelers to pay to the city.
While in Berlin, the city initially had a law effectively banning Airbnb due to rising rent and housing costs. However, in 2018, the city made it so homeowners could rent out their spaces under very strict conditions for a maximum of 90 days each year.
And once Airbnb goes public, these issues will be at the forefront of considerations when looking at its stock value. More regulations like these could put a damper on Airbnb's profitability and are a major risk for investors.
But those aren't the only challenges. Airbnb also faces some fierce competition from much more established companies.
Airbnb's Fierce Competition
Airbnb was once a scrappy competitor for existing hotels. Now, it has more than 6 million listings worldwide and more potential room to offer than the top five international hotels.
But the company isn't home free in the travel space. Many large companies already focus on travel rentals and bookings. Expedia Group Inc. (HomeAway) (NASDAQ: EXPE), VRBO, Booking Holdings Inc. (NASDAQ: BKNG), Trivago NV (NASDAQ: TRVG), and Tripping are all now in the same market.
As a result, Airbnb is up against companies that have been around the block much longer than it has. And Airbnb's success is encouraging even more players to enter the arena.
Both Booking Holdings and Expedia work with a variety of hotels, but they've also moved into the home-sharing business that Airbnb pioneered.
Plus, leading hotels like Marriott International Inc. (NASDAQ: MAR) are shifting their services to combat Airbnb by providing "homier" feeling hotel rooms as well as offering home rentals of their own to travelers. So, while Airbnb is trying to get into boutique hotels on top of its home-sharing services, established hotels are already ahead of the game.
Why Retail Investors Should Avoid the Airbnb IPO
The biggest factor impacting Airbnb stock is the early volatility of new IPOs.
Institutional investors like big banks and hedge funds will always have access to IPOs at the initial offer prices. These pre-IPO prices aren't available to the retail public.
So institutional investors typically stand to make profits or at least lose very little with IPOs. They could purchase shares at $20, but by the time it's available to the public, it could be $30. If you were to buy it at $30, the share could easily drop down to $25 - putting you at a pretty significant loss, while the hedge funds still profit.
Just look at Lyft's debut. Private investors said shares were worth between $62 and $68 pre-IPO. But institutional investors paid $72 at the IPO. Once shares were available on the exchange to retail investors, they were $88 a pop.
Right now, Lyft shares are trading for $60.25.
So, any investor that got in at $88 is looking at a 31.53% loss.
And this is very common with tech "unicorns" during their IPOs. That's why Money Morning recommends staying away from the Airbnb IPO for now.
In the meantime, Money Morning Defense and Tech Specialist Michael A. Robinson has four investments that could see double- or even triple-digit profits within the year. These investments could be your backdoor play on popular IPOs. And one is expected to see shares skyrocket 65% in a rapidly growing $80 billion industry...
Four Investments Retail Investors Need to Check Out