If producing life-altering gains is your goal, this list of the three best penny stocks to buy now should get your attention. These are all stocks that could quickly double your money.
Penny stocks are attractive because they have the potential for fast gains. We're talking in just a few months or even a week. That's because it doesn't take much of a price swing to create large percentage gains in these shares, because these are stocks that trade at $5 or less.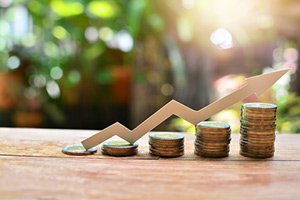 While you can certainly choose companies that trade on the over-the-counter exchange or pink sheets, the best penny stocks are the ones that trade on the larger exchanges, like the NYSE or Nasdaq. This helps protect you from scams and illegitimate companies that aren't willing to disclose their finances.
But there are thousands of penny stocks to choose from, which can make picking the right one a challenge. This is where the Money Morning Stock VQScore™ shows its value. You see, this propriety stock-picking system can help pinpoint the companies that have the greatest potential for breakout gains.
By analyzing the stocks trading on the major exchanges at under $5 a share, Money Morning has been able to rank them and identify the best penny stocks to buy now.
5G Is Coming: The tech breakthrough of the century could rest on this $6 stock - get all the details here.
It's important to remember that penny stock investing is speculative. Sure, there is the potential for market-beating gains, but you can also lose your investment. This is why it's never a good idea to put more than 2% of your total portfolio in these stocks.
Knowing this, here are the best penny stocks to buy now that can return more than 100% to you...
Best Penny Stocks to Buy Now, No. 3
Ambev SA (NYSE: ABEV) is a Brazilian beverage company that specializes in producing and distributing beer, carbonated soft drinks, and food products throughout North America.
While you might not have heard of Ambev, it currently operates in 14 countries and is the world's third largest brewing company.
Some of its beer labels include Stella Artois, Skol, and Bohemia. It is also known for bottled water, juice, coconut water, iced tea, and other popular non-alcoholic beverage products.
The company has faced some challenges over the past five years thanks to volatility in the Argentine and Brazilian markets. Compared to 2017, sales volume was down last year, partially due to slowed economic growth and soaring inflation. There has been rising inflation over the past three years in Argentina.
For 2019, the firm provided a conservative outlook for earnings, but there is a good reason to keep this one on your radar.
ABEV currently trades at $4.60 per share and outshines most competitors when it comes to the dividend yield. The quarterly dividend yield is 3.07% compared to just 1.3% for the industry average. This is an excellent return for a penny stock.
Brazil's political situation could be shifting, and the inflation rate in Argentina is already slowing. These factors could produce surprise earnings for ABEV, which has the potential to reach $6 in the near term.
On top of the dividend, this could provide investors with an upside of roughly 30%. This is a respectable gain.
What's even better is that the company's VQScore is currently a perfect 4.75, which means its upside is even higher.
Best Penny Stocks to Buy Now, No. 2
Turquoise Hill Resources Ltd. (NYSE: TRQ) is a Vancouver-based mining company that specializes in exploring for copper, silver, and gold deposits.
Its primary operations are in southern Mongolia, in the Oyu Tolgoi mine. In this area of the planet, it has ongoing projects that will access some of the biggest copper and gold porphyry deposits in the world.
Turquoise is considered one of the most profitable mining companies in North America, and it expanded its global reach in 2018 with the production of 280,000 tons of gold and 155,000 tons of copper.
As far as balance sheets go, Turquoise is one of the strongest mining company stocks to own. It has beaten quarterly earnings forecasts over the past year by an astounding 225%. Now that the price of copper is heading north and there is an anticipated trade deal between the United States and China, this is a stock poised for a breakout.
TRQ is currently trading at $1.69 per share, and it also has a perfect 4.75 VQScore.
Over the next 12 months, this stock could hit $3.75 as copper prices increase and the company continues to work on its balance sheet. This would represent a gain of 121%.
Our top penny stock to buy has even greater potential.
Best Penny Stocks to Buy Now, No. 1
[mmpazkzone name="in-story" network="9794" site="307044" id="137008" type="4"]
Denbury Resources Inc. (NYSE: DNR) is our top pick.
This is a Texas-based oil and gas firm that runs energy production operations throughout the Rocky Mountain and Gulf Coast regions. The company boasts control of an impressive 260 million barrels of natural gas and oil reserves, with 97% of this being oil.
Denbury entered into a merger agreement with Penn Virginia last year, which many on Wall Street viewed as ill-advised. The company recently called off the deal, which is going to give it better leverage to expand its operations this year and beyond.
Beyond this recent news, the rising price of oil is another catalyst for this penny stock.
When the company presented its fourth-quarter financials, it indicated that it had reduced debt by $280 million in 2018 and generated over $80 million in free cash flow. It also slashed 30%, or $30 million, from administrative expenses over the prior year.
If oil prices jump to $50 per barrel, the company estimates that it will be able to generate between $50 million and $100 million in free cash flow. This figure could go as high as $170 million if oil prices hit $60 per barrel.
The truth is that there is potential for even more thanks to OPEC's massive cuts and other geopolitical concerns. That free cash flow could hit $200 million, helping the company slash debt and sending the share price to new heights.
DNR currently trades at $2.41 per share. But a rise in oil prices could send the share price to $5 by the end of 2019, representing gains of 107% for investors.
5G Could Mint a New Wave of MILLIONAIRES!
It's the greatest tech shift in generations, and it can create untold wealth for investors.
If you ignored weed or crypto - DO NOT miss out again. This could be your LAST shot at early retirement.
Find out how you could capture a life-changing SIX-figure windfall from 5G right now.