He's the most famous investor in the world. He's the Oracle of Omaha, the world's second richest man. And one of his most favored stocks is ready for takeoff again.
Warren Buffett made his fortune buying stocks right before they were set to blast off. It might seem like magic - somehow, he just knows when a stock is poised for breakout. But it's not.
Buffett learned investing from Benjamin Graham, which means most of his decisions are data-driven, carefully researched and thought out. Using Graham's lessons, Buffett has been able to build a fortune through massive gains on relatively conservative bets.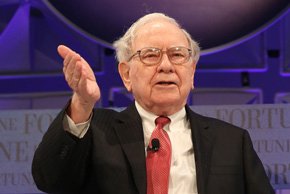 Of course, learning everything there is to know about every stock can be tedious. Early on, Warren Buffett didn't have access to the same wealth of information we do now.
Sign up for SMS so you never miss special events, exclusive offers, and weekly bonus trades.
While investors still need to thoroughly consider the pros and cons of their investments, algorithms can help them do this more efficiently.
But what makes it really easy is when a top-notch algorithm and the world's greatest investor are on the same page.
This week, one of Buffett's favorite stocks hit the "Buy Zone" on our Money Morning Stock VQScore™ system. This is something that has now occurred two times in April.
And that's no coincidence. Our proprietary system gives investors insight on the exact moment when a stock is about to erupt. Stocks receive a VQScore that tells us which stocks are great buys right now, meaning they are great companies with immediate breakout potential.
7-Day Cash Course: With the secrets in this video series, you could potentially start collecting anywhere from $1,190, $1,313, and even $2,830 in consistent income - each and every week. And it can be yours for only $1...
This company makes one of Buffett's favorite products - one you can regularly find on his desk at all hours of the day. It has a big year ahead, expanding into new product territory after a key acquisition.
The iconic American company just delivered a solid earnings report, beating revenue expectations of $7.88 billion with $8.02 billion.
Best of all, it has a VQScore of 4.45, making it a "Buy"...
Warren Buffett's Favorite Stock