The secret of the world's richest investors is simple - real estate. You don't even need to take out a mortgage to create this kind of wealth, either. This list of the top REITs to buy this week can be an excellent start.
In early April Money Morning Special Situation Strategist Tim Melvin attended the annual NYU REIT Symposium in New York City, where he was able to meet some of the world's top real estate investors.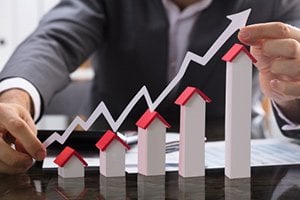 Real estate investment trusts (REITs) allow investors to profit from the real estate market by owning a fund that holds working real estate assets. These can be diversified or specialized, such as rentals, residential, office units, hospitals, and even cell phone towers.
REITs have historically delivered market-beating gains, and they have become more popular investment vehicles because they produce steady income through dividends.
These alternative investments also provide some distinct tax advantages. More than 80 million Americans are investing in REITs through ETFs and mutual funds, often linked through their retirement accounts.
But you don't necessarily need a portfolio manager to choose the best REITs to buy. While there are now hundreds to choose from, we've narrowed down the selection with the proprietary Money Morning Stock VQScore system™.
This system ranks the 1,500 most profitable and fastest-growing stocks on the market and assigns them a score based on their potential to break out higher. We've simply screened the VQScore for the top REITs on the market today.
Here's our list of the top REITs to buy now.
Top REITs to Buy This Week, No. 3
InfraREIT Inc. (NYSE: HIFR) is a Dallas-based REIT that leases and owns rate-regulated electric transmission assets across Texas and the Southwest.
It is externally managed by Hunt Utility Services, which is owned by the famous Hunt family.
5G Is Coming: The tech breakthrough of the century could rest on this $6 stock - get all the details here.
This is a unique REIT because it is the first of its kind to be entirely dedicated to cell phone towers and power lines, which are assets that can create some serious cash.
This REIT has consistently beat earnings estimates over the past four quarters. In February shareholders approved a merger agreement with Oncor Electric Delivery Company LLC, based in Texas.
HIFR currently trades at $21 per share, which is just about 10% below its 52-week high.
The company has a 4.76% dividend yield, which doubles the S&P 500 average yield.
Beyond this, the VQScore for this REIT is a perfect 4.75, which means that it is a reliable and solid investment at a time when investors are concerned about an increasingly volatile market.
Top REITs to Buy This Week, No. 2
It might seem counterintuitive to recommend a retail REIT when this is considered a dying industry, but hear us out.
Urban Edge Properties (NYSE: UE) is a retail REIT that spun off from Vornado Realty Trust (NYSE: VNO) in 2015. Worries about UE's corporate strategy caused a pullback from the February highs of $20.73, but there was a rebound in March in the wake of the company's annual letter to shareholders.
Urban Edge acquires, develops, redevelops, and manages retail estate properties in urban communities, primarily in Manhattan. It now owns 16.3 million square feet of gross leasable space across 88 properties.
There are an average of 164,000 people residing within a three-mile radius of the company's properties, which is 66% better than its peers.
UE's projects marked for redevelopment stress high traffic areas in some of the most highly trafficked real estate markets in the world. Over the next several years, it plans to invest between $250 and $500 million in another 21 properties. It also expects to net roughly $400 million by divesting about 39 smaller assets that it considers non-core portfolio properties.
As the company slims down its portfolio, it also plans to bring in replacements for retailers that went out of business in the past several years. This revenue will begin to materialize late in 2019 and will become stable by 2021.
The company pays a 4.61% dividend yield, but this could soon go up along with the share price as management looks to return more of its revenue to investors.
This also has a strong 4.75 VQScore, and we expect UE shares to rebound back to the 2018 highs that were close to $25. This would be an upside of more than 35% from today's opening price.
Between the share price rebound and the stellar dividend, that's a great moneymaking opportunity, but this is the best one on our list...
Top REITs to Buy This Week, No. 1