Sometimes the most mundane of corporate events can result in the biggest of catalysts for stocks. On April 18, Blackstone Group LP (NYSE: BX), a leading manager of alternative assets, announced it was changing its structure from a partnership to a corporation.
Blackstone Group LP will become Blackstone Group Corp.
That's the sort of thing that normally wouldn't raise an eyebrow, but the stock went wild. It jumped 7.5% and touched a fresh 52-week high.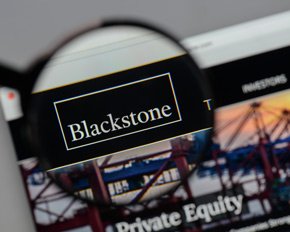 What's the big deal about a corporation? Most mutual and exchange-traded funds (ETFs) are prohibited from owning companies structured as partnerships, even if they are publicly traded companies.
Blackstone's switch from a partnership to a corporation opens the floodgates of demand as ETFs jump in to add Blackstone to their portfolios. That will increase demand for Blackstone stock, driving the price higher. The official change will take place July 1, so right now investors and ETFs are jumping in ahead of the actual event.
Right now, the only ETF holding Blackstone is the Invesco Global Listed Private Equity ETF (NYSEArca: PSP) because it is designed to track this type of investment. After the changeover, dozens of other ETFs will get in on the action.
Sign up for SMS so you never miss special events, exclusive offers, and weekly bonus trades.
We know this because two of its peers made the switch last year.
KKR & Co. Inc.
(NYSE:
KKR
) jumped on its news on May 3, 2018. Shares popped 4% higher between May 3 and May 4 and 22% higher by July 6.
This Could Be the Most Profitable Dollar You Ever Spend: Tom Gentile's Cash Course covers all the essential trading ideas you need to know to potentially make thousands in extra income every week. Get access for $1...
We expect the increased demand from ETF buying to give Blackstone a similar, if not better, pop in share price.
And you can use that catalyst to turn Blackstone's move into a serious profit opportunity...
Why Blackstone Stock Will Pop This Summer
A catalyst like new ETF buying is great, but it wouldn't work nearly as well if the stock wasn't already in excellent position for an upside breakout.
It's already a leading private equity player and one of the best stocks to own as it is. It has a sterling Money Morning Stock VQScore™ of 3.75, which means it is a solid company on a solid footing.
And its stock chart recently notched a "golden cross" formation when the 50-day average moved above the 200-day average. This is a technical signal suggesting the long-term trend has already turned higher and more gains are likely over the next few months.
Money Morning Special Situation Strategist Tim Melvin has also sung the praises of Blackstone's private equity leadership. In fact, he wrote that these companies can basically print money. Most of them get a 2% management fee and 20% of the profits generated by their portfolios of companies. This is one of the most lucrative companies in one of the most lucrative industries.
But why is Blackstone only making the change now?
The answer is that the lowering of the effective corporate tax rate from 35% to 21% made it more attractive to operate as a corporation than it was before. And it will unlock value for investors as shares will enjoy wider distribution, not the least of which comes from ETF ownership.
And now that we know this breakout stock is getting a fresh catalyst in July, here's how to turn it into a financial windfall...
Here's the Options Play to Cash In on Blackstone