On April 24, Ford Motor Co. (NYSE: F) announced its plans to invest $500 million into Michigan-based electric truck manufacturer Rivian. The Ford/Rivian takeover is another sign legacy car manufacturers are quietly leading the pack on electric vehicles (EVs). In fact, it's a trend creating a profit opportunity for savvy retail investors looking for the best electric vehicle stocks to buy…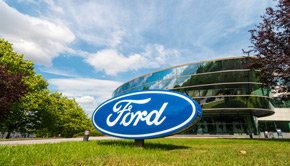 Back in September 2018, we told you about Toyota Motor Corp.'s (NYSE: TM) complete domination of patents on electric and hybrid vehicles. Since Money Morning recommended the company over Tesla, its share prices have jumped roughly 12% as it continues to lead the pack in the EV market.
Now, Ford's buyout of Rivian is just another step in Ford's already $11 billion investment in developing a lineup of EVs.
And the next company following this trend is an opportunity for retail investors to more than double their money.
But before we reveal this money-doubling stock, let's dig into why the Ford/Rivian takeover is such a big deal.
BONUS: We're giving away a stock pick we usually reserve for premium subscribers ONLY – but today it's yours for FREE. Click here to get it.
What the Ford/Rivian Takeover Means for the Electric Vehicle Market
Ford already has EV versions of the Mustang and F-150 (which is the best-selling vehicle in the United States) in the works. The company's investment in Rivian will only accelerate its efforts to create a diverse portfolio of EVs.
Rivian, founded in 2009 by RJ Scaringe, revealed its battery-powered SUV and truck at the Los Angeles Auto Show in November 2018. Since then, Amazon.com Inc. (NASDAQ: AMZN) has invested $700 million into the company to develop an electric delivery vehicle. What's made Rivian such a compelling company is its vehicle's skateboard-like platform that's incredibly flexible for increased cargo space – something fleet owners desperately require.
This puts it in direct competition with electric vehicle giant Tesla. And while many investors see Tesla as the biggest name in EVs, Ford buying Rivian is yet another blow to Tesla's EV supremacy.
In Q3 2018, Tesla lost $675.4 million. In the most recent quarter, it threw another $702 million down the drain. That's almost $1.4 billion in losses in less than a year.
Tesla may have had first-mover's advantage, but the company is bleeding money. The competition is growing fiercer every day, and as companies like Ford double down on their investments into the EV market, it's looking less likely that Tesla will win this war.
This is mostly because investors are banking on a dream when it comes to Tesla. Yes, since 2010, Tesla's share prices have blown up 1,170%. The company even redefined what it meant to have an electric car – portraying them both as powerful and luxurious.
Watch Now: Serial entrepreneur Neil Patel reveals how to achieve the American Dream… for as little as $50. Click here…
But investors have been dumping money into a company that has yet to make a profit. On the other hand, legacy manufacturers have developed into a very serious threat to Tesla. Companies like Ford and Toyota are continuously profitable – raking in billions every year.
Beyond that, Tesla vehicles only make up 1.4% of the U.S. car market while firms like General Motors Co. (NYSE: GM) account for 17.6%. That means Tesla has a long way to go before it can rival the larger automakers, and that's a feat getting tougher every day as these legacy companies expand their EV offerings.
And now there's another electric vehicle manufacturer taking advantage of the lucrative and growing EV trend.
Unlike Tesla, this company is profiting by the billions every quarter.
Analysts are projecting its stock will surge over 100% higher in the next 12 months.
They aren't the only experts bullish on it, either.
This stock just earned a perfect score on our proprietary stock-ranking system, and it could be the nail in the coffin for Tesla's EV reign…
This Automaker Is Riding the Lucrative Trend We've Been Talking About
Join the conversation. Click here to jump to comments…
About the Author
Daniel Smoot is a Baltimore-based editor who helps everyday investors with stock recommendations and analysis. He regularly writes about initial public offerings, technology, and more. He earned a Bachelor's degree from Towson University.