Oil prices are up 40% on the year, and the United States is putting even more muscle behind Iran sanctions. But that might not be enough to keep oil prices permanently high any longer. Today, we'll show you a play that gives you both short and long-term profits as oil prices rise and fall.
The White House said on Monday, April 22, that it would not extend exemptions to Iran's oil sanctions that were set to end in May. This further limits Iran's global trade prospects, but it also restricts the world's oil supply.
According to the Council on Foreign Relations, this tough stance by the United States could eliminate more than 500,000 barrels per day from the market. It also comes as the Organization of Petroleum Exporting Countries (OPEC) plans to lower production even further.
At any other time, these would have been catalysts for higher oil prices. The markets thought so, too, as Brent crude futures went up 0.6% the day the announcement was made, then climbed another 1.8%.
But after reaching a high of $75.58 on Thursday afternoon, they started falling again. Brent crude lost more than a dollar by the end of the day.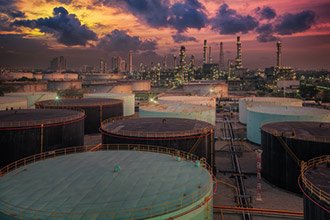 Friday was no better, as they fell to $71.32 to end the week, a 5.75% plummet from that Thursday high.
These might be small data points, but there's bigger data telling us the world has changed and that oil prices are just not as sensitive to foreign supply as they used to be.
While countries like Iran and Venezuela have had their oil output cut off by sanctions, U.S. firms have dug into the domestic supply. According to the U.S. Energy Information Administration, U.S. crude production also grew 17% in 2018, the most since 1970. That led to the United States stockpiling more barrels than ever before - 12 million barrels per day (bpd) in 2018, a national record, according to a February report by Reuters.
That puts some downward pressure on oil prices. West Texas Intermediate (WTI) crude fell $0.11 the moment the record was struck. And when the United States. announced a 2.8 million-barrel increase in its stockpiles on March 27, 2019, WTI lost $0.53.
5G Is Coming: The tech breakthrough of the century could rest on this $6 stock - get all the details here.
A greater supply positions the United States for more international sales. Crude exports have already broken records in 2019, at more than 2.5 million bpd, and they are only expected to increase throughout the year.
Although oil prices have risen close to 40% since December 2018, there is a tug-of-war between different catalysts. Limited foreign supply raises price, while growing domestic supply discounts it. Oil is in a grey area.
That's in the short term, at least.
Though oil prices may rise in typical summer fashion this year, there is no telling how long those gains will stick around. The carbon emissions reports are piling on Big Oil's doorstep, and renewable energy will soon be too cheap to pass up.
Some oil companies might need to rethink their model.
See this chart measuring solar cost against its production of oil equivalent through 2017: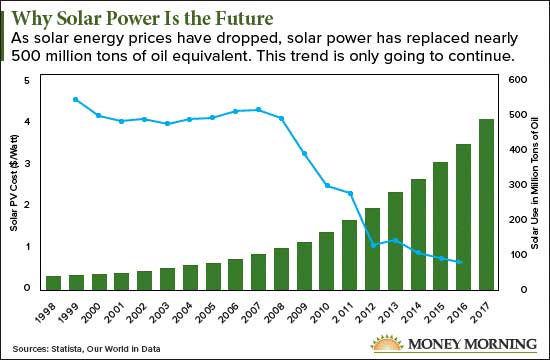 The chart hits 500 million tons of oil equivalent, which translates to about 3.4 million barrels of oil. We should expect the number in 2019 to be even higher.
So while a number of oil companies might make a bigger profit this year on higher oil prices, they aren't set for the long term, where renewable energy could chip into their sales.
Plus, renewable energy prices aren't subject to international disputes like oil is. Renewable prices are going down as technology improves. This wave will separate the truly innovative oil companies from those that were content with sitting on family reserves until they ran dry.
And one oil company in particular is poised to not only profit from oil's short-term price gains, but also fare extremely well in the renewables industry over the long term.
While being a leader in the oil industry, this company is also putting $4 billion per year toward renewable energy investments.
The Money Morning Stock VQScore™, a proprietary system that alerts us to stocks with massive breakout potential, gives this one the highest-possible score of 4.75, or "Buy Now."
This is the best play on energy demand for years to come...
This Oil Stock Has Renewable Upside Too
Join the conversation. Click here to jump to comments…
About the Author
Mike Stenger, Associate Editor for Money Morning at Money Map Press, graduated from the Perdue School of Business at Salisbury University. He has combined his degree in Economics with an interest in emerging technologies by finding where tech and finance overlap. Today, he studies the cybersecurity sector, AI, streaming, and the Cloud.