Following its IPO debut on April 18, the Zoom stock price skyrocketed 72.2% in just one day from its opening of $36 a share. But this massive price increase should be a warning sign for retail investors interested in buying Zoom stock.
While Zoom Video Communications Inc. (NASDAQ: ZM) has analysts everywhere hyping it up, it's a good idea to wait six months to a year before buying Zoom stock.
Prior to Zoom's public offering, the company's goal during the IPO period was to raise $100 million with roughly 9.9 million shares. But the firm is now slightly overvalued after raising $145 million from venture capitalists before its IPO.
Sure, there are plenty of great things about Zoom. But its pre-IPO valuation had shares valued at $28 to $32. This means its IPO price was already 12.5% to 28.57% higher than it was initially valued by private investors. And right now it's already up 80.6% from the price institutional investors paid.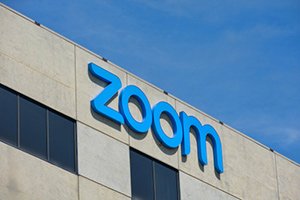 If you've been following Money Morning, you already understand how risky early IPOs can be. The first six months are normally very volatile. This has certainly been the case for big tech "unicorns" like Lyft.
Since its IPO, Lyft shares have dropped a whopping 32.6% to $59.33 from the $88 retail investors had to pay per share.
But there is some pretty valid hype behind Zoom's stock. Unlike the completely disastrous Lyft IPO, Zoom is one of the rare "unicorns" making a profit. Its last gross profit came in at $269.5 million, with a net income of $7.6 million. Beyond that, CNBC says Zoom's total revenue skyrocketed 443.5% from 2017's $60.8 million to $330.5 million by year-end 2018.
While this massive increase in revenue makes Zoom a very tempting investment, it's better to let this IPO breathe a little before you invest in Zoom stock.
Here's exactly why, even for a company as profitable as Zoom…
Zoom's Path to Profitability
Zoom Video Communications was founded by Eric Yuan, the former vice president at Cisco Systems Inc. (NASDAQ: CSCO) back in 2011. He wanted to make video conferencing as easy and intuitive as possible, but he didn't think it could be done at Cisco. So, he pulled 40 engineers with him and started Zoom. Eight years later, the company is now valued at around $17.7 billion.
Zoom went live in 2013. Within four months, it gained 1 million users. Throughout the year, the company's popularity continued to soar rapidly, and it even partnered with Redbooth on B2B collaboration software.
Shortly after, Zoom started its own program, "Works with Zoom," to establish partnerships with software and hardware vendors. These companies include names like Vaddio and InFocus. However, Zoom also works with big companies like Yamaha Motor Co. Ltd. (OTCMKTS: YAMHF).
Within a year of its release, Zoom had accumulated 10 million users. The year after, 65,000 organizations and 40 million people were using Zoom.
Over the next several years, Zoom partnered with an incredible number of companies. It integrated its software with online interviewing platforms, toll-free telephone networks, sales software, Google, and Microsoft products and even offered screen-sharing on iOS.
With each integration, Zoom's products and popularity skyrocketed – even receiving $30 million in Series C funding.
Get Ready for 5G NOW! A single company could be about to corner the entire 5G market – and you could turn every $1,000 you stake into $10,000! Go here now to find out how.
Back in 2017, the company was valued at $1 billion and had officially become a startup "unicorn." This earned them another $100 million in D Series funding from Sequoia Capital (NASDAQ: SEQUX), a venture capital firm with holdings in Apple Inc. (NASDAQ: AAPL) and Alphabet Inc. (NASDAQ: GOOGL).
Towards the end of 2017, Zoom was hosting 20 billion meeting minutes per year. Its revenue had jumped 150% and its customer base grew 100% – resulting in the company earning the 18th spot in Forbes' Cloud 100 list. The firm also integrated its software with Augmented Reality, Slack, Facebook's Workplace, and a speech-to-text AI converter.
Last year the company was valued at $8 billion, and CEO Eric Yuan was named Glassdoor's no. 1 CEO.
Zoom's pre-IPO value was estimated to be $8 to $9 billion – but it has now surpassed Lyft's $17.1 billion with a valuation of $17.7 billion in just one week.
While Zoom has had an incredible run so far, great corporate culture, and a well-respected CEO, Zoom stock is very risky for retail investors.
We'll show you exactly why, plus give you a huge tenfold opportunity for retail investors looking to profit from the technology industry…
Investing in Zoom Is Risky for Retail Investors
Join the conversation. Click here to jump to comments…
About the Author
Daniel Smoot is a Baltimore-based editor who helps everyday investors with stock recommendations and analysis. He regularly writes about initial public offerings, technology, and more. He earned a Bachelor's degree from Towson University.