2019 is shaping up to be the most profitable year yet for CBD - the medicinal compound derived from marijuana. And there's still time to make a huge profit on what's quickly becoming a billion-dollar industry.
The Hemp Business Journal reports that the CBD industry, worth only $170 million in 2017, could be worth $1.1 billion by the end of next year.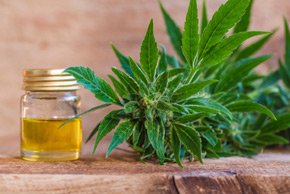 And that figure could balloon to even greater heights in just the next three years. According to the Brightfield Group, the CBD industry could be worth as much as $22 billion by 2022.
That 12,000% growth potential is simply unheard of. That's why we've been telling our readers all about CBD.
You see, we've been following the CBD industry before it landed on anyone's radar, and 2019 is looking like the best year yet for CBD stocks.
Here's how you can still profit in this industry, but you don't have much time to wait...
Why 2019 Is CBD's Silicon Valley Before the Boom
The reason CBD is growing into a juggernaut industry is it has medicinal benefits without the illicit high of marijuana.
It's legal, popular, and growing at an explosive pace - investment in the CBD market has jumped 80% in just the last seven years.
Driving this year's profits is a series of deals bringing CDB products to shelves across the country.
In January Tilray Inc. (NASDAQ: TLRY) announced a $100 million deal with Authentic Brands Group LLC to distribute CBD-infused products through ABG's distribution network.
ABG currently has a global retail footprint of over 4,500 stores and generates over $9 billion in sales annually.
SIT THIS ONE OUT and you could miss an American economic revolution that could send three little pot stocks soaring up to 1,000%. Click here to see why...
This kind of exposure for CBD products is going to push the industry's profits to new highs - and these two aren't the only ones getting in on the action.
Both Constellation Brands Inc. (NYSE: STZ), maker of some of the largest international beer brands, and tobacco producer Altria Group Inc. (NYSE: MO) have made billion-dollar investments in the CBD industry over the last six months in an effort to capitalize on its increasing popularity.
Investments like these are not just stimulated by market demand either. The federal government has recently taken action to give CBD the green light for widespread growth.
Last year Congress passed the 2018 Farm Bill, which legalized the industrial growth of hemp - the key plant needed for CBD production. This motivated a slew of investments across the CBD industry, including Tilray's $314 million purchase of Manitoba Harvest, the world's largest hemp company.
In addition, the federal government removed hemp-derived CBD oil from the Controlled Substances Act, meaning it's been decriminalized on the federal level.
Reports suggest the Drug Enforcement Administration may soon grant CBD products their own classification, fully separating CBD from marijuana and its psychoactive element, THC.
This would clear the way for CBD to fully enter the mainstream market and generate tremendous profits for investors on the ground floor.
But we don't have to wait for that to happen in order to start locking in profits.
That's why Money Morning Director of Cannabis Investing Research Greg Miller is digging deep and recommending one of the hottest CBD stocks to buy right now.
Earlier this month, this company's stock went through the roof after making one of the hottest CDB investments of the year.
And it's only getting started...
Analysts project this company's year-over-year sales growth to be as high as 500%.
The Best CBD Stock to Buy in 2019
[mmpazkzone name="in-story" network="9794" site="307044" id="137008" type="4"]
Aurora Cannabis Inc. (NYSE: ACB) is one of the biggest names in the CBD market right now.
On April 17, Aurora announced it would fully acquire Hempco Food and Fiber Inc., a Canadian producer of hemp-based health foods.
The move represents Aurora's latest foray in the growing CBD market and caps off a year of some of the most successful growth in the marijuana industry.
Over the last fiscal year, Aurora managed to generate 55.2 million Canadian dollars in profits.
And for the first quarter of 2019, analysts expect the company to nearly beat its entire 2018 profit, estimating CA$54.6 million in revenue for Q1 2019 alone.
That kind of return is going to result in year-over-year sales growth between 200% and 500% for the company.
Aurora also has one the largest growth capacities of any of its competitors. The company can grow over 500,000 kilograms of marijuana annually.
Currently, that production capacity is underutilized as the company continues to scale its distribution system to meet demand.
However, this growth capacity guarantees the company will be able to capitalize on growing demand at an increasingly rapid pace. And that will result in even greater revenue.
Analysts are projecting ACB shares will pop as much as 40% higher over the next 12 months. That's just the beginning as CBD sales and legalized marijuana continue to expand.
And while ACB is a great company in this space, you can really turn up the gas with these stocks...
These 3 Stocks Are the Key to 2019's Greatest Profits
The 2018 midterm election was a turning point for the cannabis industry.
We expect nothing short of historic profits by the end of the year.
But not all pot stocks will hand you life-changing wins. In fact, often the companies making headlines are least likely to see the biggest gains.
These three stocks, on the other hand, are flying under the radar... for now. Each of them could see exponential stock price acceleration at any moment, and if you get in before that happens, you could turn a token stake into a lifetime of wealth.
I don't know of any other sector providing anywhere near this level of growth now.