Google earnings sent the stock plunging 8% yesterday (April 30) thanks to poor growth in YouTube. And we don't care.
News broke late Monday night that Alphabet Inc.'s (NASDAQ: GOOGL) Q1 2019 report showed its slowest revenue growth since 2015. The media jumped on how YouTube may have played a big role in decreased growth.
Alphabet structures its business in such a way that it doesn't reveal any specific details about Google, YouTube, or any of its other properties. Rather, the company just reports its overall numbers – meaning investors have no knowledge on whether YouTube is profitable or not beyond what Alphabet reveals. That isn't much.
GOOGL earnings came up short of the predicted $10.60 per share on revenue of $30.04 billion. Its Q1 2019 revealed earnings were $9.50 per share with revenue of $29.48 billion.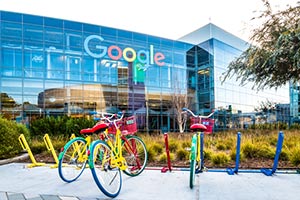 Many investors on Wall Street are pointing to YouTube as the root cause. But the estimates didn't seem to take the $1.7 billion fine GOOGL paid in Europe into account.
If it hadn't been for the fine over advertising problems, GOOGL's earnings would have been $11.90 per share. Plus, the company's revenue grew by 18.6% in the last quarter alone.
Brace Yourself: The 5G revolution is unleashing your next potential TRILLION-DOLLAR opportunity – go here now.
Here's what GOOGL's latest financials tell us – and why we aren't bothered by their results. In fact, there's something very unique about this stock…
Why Google's Earnings Slowed in Growth
Join the conversation. Click here to jump to comments…
About the Author
Daniel Smoot is a Baltimore-based editor who helps everyday investors with stock recommendations and analysis. He regularly writes about initial public offerings, technology, and more. He earned a Bachelor's degree from Towson University.