With Palantir's rumored 2019 IPO, it could be among the most valuable "unicorns" to go public this year.
But despite its massive potential, retail investors shouldn't buy Palantir stock. In fact, we have a better way for retail investors to profit off of the Palantir IPO.
But first, let's look at what Palantir does and how it became the mysterious company it is today...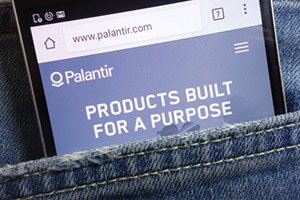 Palantir Is a Data-Mining Giant
Palantir Technologies Inc. has long been shrouded in mystery. It was co-founded in 2003 by Peter Thiel, who also started PayPal. But its other co-founders were Alex Karp, Nathan Gettings, Joe Lonsdale, and Stephen Cohen.
The company's name is a reference to "Lord of the Rings" - Thiel's favorite childhood book. In the series, a Palantir was an item that allowed people to view things over a large distance. And Thiel's goal for the company was to use software similar to PayPal's fraud detection system to reduce global terrorism.
One of Palantir's earliest investors was the venture capital division of the CIA, called In-Q-Tel.
Then, in 2009, Palantir found evidence of a Chinese cyber espionage campaign, based on the discovery of its networks, GhostNew and Shadow Network, that had been spying on more than 100 countries.
By 2013, TechCrunch reported that the company was working with multiple U.S. government agencies like the Air Force, Special Operations Command, West Point, the Marine Corps, the National Security Agency, the CIA, the FBI, the Department of Homeland Security, and the CDC.
Three years later, SOCOM contracted $222 million to Palantir for an intelligence-gathering program.
5G Is Coming: The tech breakthrough of the century could rest on this $6 stock - get all the details here.
And while Palantir does a lot of different things, it all falls into the data mining category - which analyzes patterns in data sets.
For example, AI and machine learning are a form of data mining. Let's say you buy a shirt from Amazon.com Inc. (NASDAQ: AMZN). Then, the next week, you buy a pair of shoes and maybe some pants.
All of a sudden, you start seeing recommendations at the bottom that match your clothing preferences. This is accomplished through data mining. Amazon looks at consumer purchases to generate these recommendations based on your purchasing patterns. So the more you buy, the better it understands your tastes, and the more it'll recommend things you "might like" down the line.
Because of this, Palantir stock is getting hyped up as Big Data continues to expand exponentially over the next few years.
Here's Whether Palantir Stock Is a Buy
Palantir is a very secretive company. And this is true for its financials as well. In fact, the only information we have on how the company is doing comes from an interview with the president of Palantir France. This interview revealed the company's 2018 revenue was $1 billion.
Palantir services are used by aerospace and automotive companies, healthcare companies, banks, and even the U.S. government.
But because of the company's secrecy and its lack of transparency involving clients and financials, it's difficult to pinpoint an exact valuation.
In 2015, prospective investors said shares were worth $11.38 each at a $20 billion valuation. More recently, stock options for employees were cut to roughly $6 per share. This drops the valuation down to around $11 billion.
However, in some instances, there have been reports that employees can buy shares discounted below the $6 price range.
The company is also dealing with political conflict within. Peter Thiel is very conservative, while Alex Karp is very liberal. And these polar-opposite political affiliations have trickled down throughout the company and adversely affected morale.
Recruiters have occasionally said that candidates have rejected positions over political concerns and the misuse of Palantir's software. And to some degree, there is validity involving concerns over political danger and civilian privacy from data mining.
So all of this makes a reliable valuation a bit challenging.
Seven mutual funds have shares in Palantir. And all seven of them have reduced their holdings' value by 50% since 2015. In September 2018, SP Investments Management Valued Palantir at $7.87 per share.
After multiple decreases in the price over the years, mutual funds value it at $2.49 per share. This means the company value will differ depending on who you ask.
Co-founder Peter Thiel values Palantir at $20 billion. Morgan Stanley (NYSE: MS) believes it's worth around $41 billion. The mutual funds' estimates fall between $5 billion and $14 billion. New employees say $11 billion and a big payout in the future.
So, it could be worth anywhere between $5 billion and $41 billion. But it's hard to tell which end of the spectrum it leans closer to.
Because of this, Money Morning cannot recommend buying Palantir stock at the IPO.
But for investors itching to get in on the action, we have a backdoor play instead.
This play could net retail investors double- or triple-digit profits from the Palantir stock without jumping in on the volatility of early IPOs.
In fact, this investment has the potential to see a 343% increase in its earnings in just two years...
This Is the Single Best Backdoor Play on Palantir Stock