Some investors see a major stock market crash in our near future. But we think it could be a buying opportunity.
The bears came out of woodwork recently because we saw a partially inverted yield curve – a sign, many think, of a pending recession.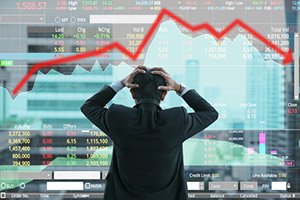 But if you read on, you'll understand why we don't think a stock market crash is coming – and how you can make triple-digit gains despite any bad news.
Why a Stock Market Crash Isn't Likely
The yield curve is a metric of interest rates, ranging from short-term Treasury bills to long-term Treasury bonds. The "inversion" seen was caused by the fact that the three-month short-term rate moved above the 10-year rate.
Well, a week after it happened, the yield curve inversion is no more. Investors who bought despite recession and stock market crash fears stand to make a profit.
We're not saying that the yield curve is at the best alignment possible, but even if the yield on the two-year climbs above the yield on the 10-year, a recession won't happen overnight.
It's important not to panic on signs of a stock market crash. Take Money Morning Quantitative Specialist Chris Johnson. He looked carefully at the S&P 500's technical indicators and forecast a higher breakout dead ahead, right when the media was getting very excited over fears of a recession.
And a breakout did occur.
This Could Be the Most Profitable Dollar You Ever Spend: Tom Gentile's Cash Course covers all the essential trading ideas you need to know to potentially make thousands in extra income every week. Get access for $1…
Chris didn't just look at a chart of technical indicators; he looked at several market indicators. For one thing, there's been a market leadership change. In February, small-cap stocks, housing, and semiconductor stocks were in favor. But that has changed to market leadership by utilities, consumer staples, and real estate.
Not only that, but the Dow Jones Transportation Average has woken up as well.
Chris believes that many large and heavily fueled catalysts will keep the market moving upward.
In politics, the Mueller report has become history. China appears to be more amenable to trade talks. The news on Brexit has been so bad that any future news is likely to be better. And last but not least, we've had a great earnings season so far.
The good news does not need to go on for months to make money on trades in the short term.
In fact, you can even turn the stock market's direction into profits rather than fear a stock market crash warning.
Here's your ticket to 159% gains.
How to Make Profits on the Direction of the Stock Market