The top penny stocks to watch this week have the potential to turn triple-digit gains in the span of a day.
A penny stock is defined by the U.S. Securities and Exchange Commission as any stock selling at or under $5.00 per share. The best penny stocks tend to trade on major exchanges like the Nasdaq or the New York Stock Exchange.
We use our proprietary method of stock ranking, the Money Morning Stock VQScore™, to find the top penny stocks, those with the most breakout potential.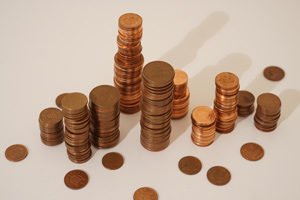 The VQScore ranks the 1,500 most profitable companies based on their potential for share price growth. We then screen for the ones selling under $5.00 per share.
Investors should bear in mind that penny stocks are a risky, volatile asset class. They are speculative and should never claim more than 2% of your portfolio.
That said, our first top penny stock has a 4.75 VQScore, the highest possible rating, meaning there's a good chance for investors to reap sizable gains in the near future.
Top Penny Stocks to Watch This Week, No. 3
Our first top penny stock to watch this week is Ambev SA (NYSE: ABEV), a Brazil-based beer company known for its dominance in South American brewing. Globally, it's the third-largest brewer.
ABEV operates in 14 countries. Its best-known brands are Bohemia, Stella Artois, and Skol, in a broader line of soft drinks, teas, juices, and other carbonated beverages.
The markets in Brazil and Argentina have faced challenges from climbing inflation and slowing growth over the past half-decade. This has put pressure on Ambev revenue and stock price.
But Argentina's central bank recently tightened its monetary policy to reduce inflation, which could give Ambev's consumer goods the boost they need.
Just Revealed: The Secret to Potentially Growing Incredibly Wealthy Buying Straight-Up Stocks
A more stable economy could result in more revenue and profits. If the shares reach their higher analyst target of $6.00 from the current $4.65, that's a 29% profit for today's investor.
The stock also provides a more than 5.57% dividend yield, versus a 1.3% average for the industry. That's rare for a penny stock, and it's regular income for investors.
But what stands out most is the stock's perfect 4.75 VQScore. It's firmly in the "Buy Zone." Watch for how this stock responds to the shifting political landscape in its South American markets.
Top Penny Stocks to Watch This Week, No. 2
The next best penny stock to watch is Canada's Turquoise Hill Resources Ltd. (NYSE: TRQ), one of the biggest mineral developers and explorers in North America.
But its reach is not limited to North America. TRQ has a strong history of developing large mines in the Pacific Rim, too. In Mongolia, for example, it has strategic development projects that mine some of the largest deposits of gold, porphyry, and copper in the world. In 2018 the company produced 280,500 gold tons and 155,000 copper tons, all due to worldwide expansion.
TRQ is historically one of the world's top mining companies in terms of balance sheets. The company has beat projections for quarterly earnings over the past year by 225% on average.
Not only that, but prices for copper are climbing higher. A projected deal on the United States and China trade battle means that the stock may break out.
TRQ currently trades at $1.58. Its VQScore, a perfect 4.75, is also a breakout indication. We think the shares could rise to $3.75 over the next year on climbing copper prices and targeting a cleaner balance sheet. That would be a 125% skyrocket in the share price.
But it can't beat this next stock, which could deliver an even greater return of 130%.
Top Penny Stocks to Watch This Week, No. 1