On Monday morning (May 6), U.S. President Donald Trump said over a series of tweets that the United States will increase its tariffs on Chinese goods again this week. This rise in trade tensions prompted investors to sell off riskier investments. That's kicked off a new rally in the price of gold.
The president said the United States will raise the tariffs on $200 billion worth of Chinese goods from 10% to 25% over the course of this week. Beyond that, the president says he intends to go after another $325 billion in Chinese goods with 25% tariffs in the future.
Of course, China wasn't happy about the president's latest tweets. Chinese stocks fell 5%, and Chinese officials threatened to skip a trade meeting scheduled for this week.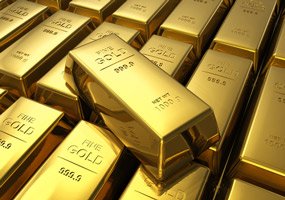 This was a shock to investors and trade watchers because the White House had been saying trade negotiations with China were going very well.
That news sent markets tumbling. The Dow initially fell by more than 400 points before rallying to close down 66 points. The S&P 500 shed 1% and closed 13 points down. The tech-focused Nasdaq dropped 1.1% and closed roughly 41 points down.
But when investor fears rise, safe-haven assets like gold get a boost. That's why the price of gold rallied after a four-month low last Friday.
In fact, spot gold's prices increased by 0.2% to $1,281.91 per ounce, while U.S. gold futures jumped 0.2% at $1,283.20 per ounce this morning.
Must See: The defense industry is a gold mine – you can't afford to miss this $6 company…
And while the broader market fell, gold stocks are riding gold's rally.
But this is just the start for rising gold prices.
Here's how the trade war could kick of a gold boom, sending prices nearly 10% higher…
What the Trade War Means for the Price of Gold
Join the conversation. Click here to jump to comments…
About the Author
Daniel Smoot is a Baltimore-based editor who helps everyday investors with stock recommendations and analysis. He regularly writes about initial public offerings, technology, and more. He earned a Bachelor's degree from Towson University.