We're currently in the longest-running bull market in history. But the longer it goes, the more leery investors seem about a potential stock market crash.
A stock market crash is just one way for a bull market to end. It can also end with a bear market – a drop of 20% or so, but short of the plummet that defines a "crash."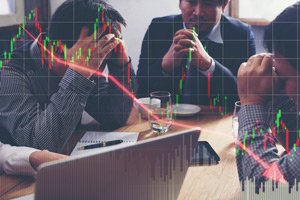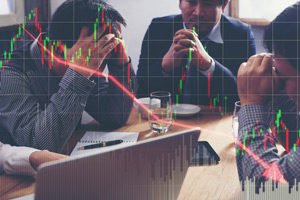 A third option is that markets can trade sideways for extended periods of time, with little gain and little loss, until earnings catch up to and exceed valuations.
That's why it's always important to stay on top of market crash signals. And we've just seen a warning sign that could be one of the biggest yet.
Biggest Sign of Stock Market Crash
It's the direction of the Consumer Confidence Index (CCI). The index is tabulated every month by the Conference Board, a think tank that tracks economic data. The CCI follows consumer business, employment, and income expectations in the economy.
Over the last year, it's been comparatively high. But it dropped in March, from 131.4 to 124.1.
This is still only a short-term development. We need the long-term picture of the CCI if we're going to begin talking about stock market crisis.
Unfortunately, the long run doesn't look good either.
If you chart the consumer confidence index over the last 40 years, recessions follow peaks. The consumer confidence index hits a high and then starts to fall.
That's when a recession happens, and recessions are often catalysts for stock market crashes. The fact that we peaked and then dropped could signal recession down the road.
This isn't a hard and fast rule, but we do intend to watch it over the next several months, because it is a pattern over many decades. If the CCI keeps trending down, a recession could loom and bring about the next stock market crash.
The Consumer Confidence Index: What It's Saying
CCI is derived by asking consumers what they think about business conditions and jobs right now, about their expectations six months out, and whether they are planning to make any major purchases over the next half year.
It provides a snapshot of the economic mood of consumers in the United States, but also of whether their spending will go up, down, or sideways.
ELECTION UPDATE: Michigan just legalized adult-use marijuana. Three stocks to watch now.
Consumer spending constitutes roughly 70% of U.S. gross domestic product (GDP) – when consumers spend less, companies miss their profit forecasts, and a bear market comes ambling ever closer.
Now, it's clear that market direction is never driven just by one indicator, no matter how important it may be. Investors also need to examine other data points to see if they follow a similar trend.
But here's why a stock market crash could arrive sooner than you think – and some signs to watch out for so you can stay protected.
Why a Stock Market Crash Is Now More Likely