The Luckin Coffee IPO is on its way, and it could be a serious contender against major coffee chains. There is no official IPO date yet, but since its filing in late April, the opening Luckin Coffee stock price will start at around $16 a share.
This coffee shop chain has generated a lot of hype in the 18 months it's been running. Some are even calling it the "Starbucks of China," as it has expanded from one shop to over 2,000 in under two years. And all signs are pointing to the company surpassing Starbucks' number of stores in China by the end of the year.
But retail investors thinking about buying Luckin Coffee stock at the IPO will want to hold off for now.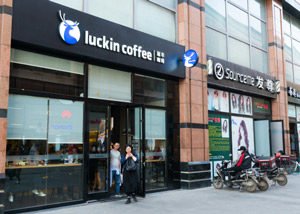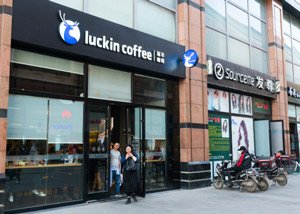 In late April the private company, Luckin Coffee Inc., filed for a U.S. IPO, offering 30 million American Depositary Shares at $15 to $17 per share. This will raise roughly $510 million for the rapidly growing Chinese coffee chain. Once public, the Luckin Coffee stock ticker will be "LK" on the Nasdaq.
But while its rapid growth and low share prices are enticing, there's a bit more going on under this company's hood.
What Is Luckin Coffee?
Founded back in October 2017, Luckin Coffee is a rapidly expanding Fujian, China-based coffee chain. The majority of its shops are small booths that offer orders for pickup or delivery. But they can be categorized into three different shop types.
In total, 91.3% of the shops are the "pickup shops" we talked about above. These have very limited seating and are generally found on university campuses or office buildings. The other two types are "relax shops" and "delivery kitchens."
Get Ready for 5G NOW! A single company could be about to corner the entire 5G market - and you could turn every $1,000 you stake into $10,000!
Customers order Luckin Coffee's products through the company's AI-powered mobile app. The app then analyzes consumer behavior in order to improve the company's products and services.
In the last 18 months since its founding, Luckin Coffee has grown from a small trial store in the Beijing area to 2,370 stores in 28 different cities across China. And as of March 31, its prospectus showed 16.8 million consumers had purchased its products.
In December 2018, the company raised over $200 million in private funding. And its year-end 2018 revenue was $125.3 million - placing it as the second biggest coffee chain in China.
In 2019 the company raised another $150 million through Series B-plus funding. This puts Luckin Coffee's value at roughly $2.9 billion in the less than two years it's been around.
Beyond that, Luckin Coffee is gearing up to take the no. 1 spot in China. As of April 2019 the company entered into a joint venture with Louis Dreyfus Company B.V. and Louis Dreyfus Company Asia Pte. Ltd. These two companies process agricultural goods, and the deal will result in the construction and operation of a Chinese-based coffee roasting plant.
And there's a massive growth opportunity for coffee in China. Right now the average person in China only drinks 6.2 cups of coffee per year. That same figure for Japan is 279.
In 1960 Japan imported 15,000 metric tons of coffee over the entire year. Now that number is closer to 500,000 a year. That's a 3,000% increase in 60 years. The average person in Japan also drinks over 11 cups per week.
However, places like Hong Kong and Taiwan experienced a similar trend. Both have 249.5 and 209.4 cups of coffee per individual each year.
So, Luckin Coffee's fast growth and skyrocketing valuation in an untapped market show it has a ground-floor opportunity for explosive growth.
But it's facing steep competition and has a few risks of its own, including on obstacle that's keeping us from going all in on the Luckin IPO...
Luckin Coffee Is a Risky Venture That's Up Against the Coffee Giant
[mmpazkzone name="in-story" network="9794" site="307044" id="137008" type="4"]
Luckin Coffee's biggest competition is Starbucks Corp. (NASDAQ: SBUX).
Starbucks has 30,000 stores globally and has had operations in China for 20 years. Right now it has roughly 3,600 shops throughout 150 Chinese cities. And by 2022 Starbucks says the number of shops will be closer to 6,000.
In a jab at the coffee mega company, Luckin Coffee said in its prospectus that the biggest pains Chinese coffee drinkers face are high prices, inconsistent quality, and inconvenience. And the company says it has successfully tackled these issues, turning into an overnight success.
Sure, Luckin Coffee's year-end 2018 revenue was $125.3 million. Heck, its Q1 2019 saw $71.3 million in revenue, too. However, it's extremely unprofitable.
In 2018, its losses were $238.1 million. So far in 2019, its losses totaled more than $78.5 million in the first quarter alone. The company spends an immensely larger amount of money on materials, coffee, and store-level operating costs than it pulls in.
However, it's also pumping out sales and marketing to dethrone Starbucks.
Starbucks ended 2018 with 3,684 Chinese stores. If Luckin Coffee continues to expand at the pace it's going, it will easily have more stores by the end of 2019.
But Starbucks is profitable with a great profit margin. And the Chinese market makes up 41% of its total stores. In 2018 Starbucks' revenue was $4.5 billion, and each of Starbucks' stores in the region averaged $794,000 in sales during the year.
Over Luckin Coffee's last four quarters, its stores only averaged $148,700 in sales. This differential in volume is likely to stay, as Starbucks has larger spaces that can handle significantly more customers.
But one thing Luckin may do well with is converting the market into coffee drinkers. So, while Luckin Coffee is looking to push more people into drinking coffee, its current growth could end up helping Starbucks in the long run.
Starbucks has a solid track record in China already. Its shares currently trade for $78.10, and one analyst expected a 14% increase to $89.
With that in mind, Money Morning cannot recommend buying Luckin Coffee stock after the IPO. Instead, wait six to 18 months. Then, look at the firm's financials and make a decision from there.
In the meantime, we have a huge opportunity for retail investors that could net double- or even triple-digit profits...
Get Ready for 5G NOW (Huge Tenfold Opportunity!)
A single company could be about to corner the entire 5G market!
Its patented technology is essential to an epic, global rollout that could create $12 trillion in new wealth, right here in America.
And you could turn every $1,000 you stake into $10,000! Go here now to find out how.
Follow Money Morning on Facebook and Twitter.
About the Author
Daniel Smoot is a Baltimore-based editor who helps everyday investors with stock recommendations and analysis. He regularly writes about initial public offerings, technology, and more. He earned a Bachelor's degree from Towson University.