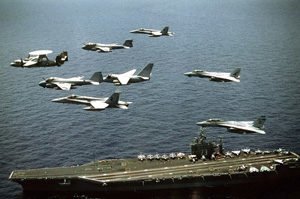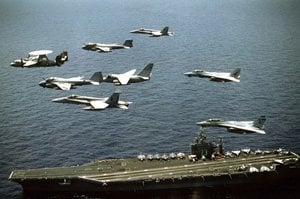 While ongoing trade discussions between the United States and China dominate the headlines, the drumbeat of military action has intensified...
This week, the United States sent an aircraft carrier to the Middle East after reports of a planned attack on American forces by a Tehran-backed proxy group in Iran.
On Sunday the Trump administration issued a surprise order to send the USS Abraham Lincoln and a bomber task force in response to "troubling and escalatory indications and warnings."
Once again, military intervention is back in the headlines.
For weeks, much speculation has emerged that the U.S. may also use its military to help overthrow Venezuelan dictator Nicolas Maduro.
Meanwhile, North Korean leader Kim Jong Un recently permitted another missile test. This event has raised new concerns that the U.S. and North Korea are still far off from a denuclearized Korean peninsula.
The rise in tension coincides with the Trump administration's efforts to bolster military spending in the 2020 budget by 5% to $750 billion.
Don't Miss: Trump's Secret Weapon Set to Foil China's Master Plan
This puts U.S. defense stocks back in focus.
To find the best defense stocks to own right now, we use the Money Morning Stock VQScore™. This proprietary system tells us when stocks are about to break out to higher levels (and which to avoid in order to protect our capital).
Each stock receives a score. A score of 4 or higher puts the stock in our "Strong Buy Zone."
Today we discuss three defense stocks to buy as tensions heat up around the globe...
Defense Stocks to Buy, No. 3