If you missed the market's all-time highs last month, our pick for one of the best penny stocks to buy in May 2019 could still help you beat the market with 50% upside.
The Nasdaq and S&P 500 had record gains in April, following another round of stellar earnings reports. The Nasdaq ended the day at 8,146 for a gain of 0.3% and the S&P 500 closed out at 2,939, a gain of 0.5%.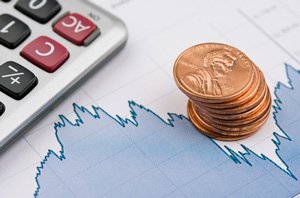 Companies like Ford Motor Co. (NYSE: F) were among stocks that soared. Shares rose 10.3%, from $9.41 to $10.38 on April 26, the biggest single-day gain since 2009. The company beat earnings expectations, mostly thanks to strong SUV and truck sales in North America.
But penny stocks, including the one we're about to recommend, also achieved sizable gains. These are stocks trading for $5 or less, as defined by the U.S. Securities and Exchange Commission.
Whether you missed the rally or are just looking for a repeat performance, the top penny stocks to buy this month could still help you accomplish this.
With more than 2,800 penny stocks to choose from, this is no easy task. But we've narrowed them down to one most likely to get a price jump this month. And remember - just a small price move in a penny stock can return double- or triple-digit gains in the blink of an eye.
First, here are some best practices for investing in penny stocks. Then, we'll show you our pick for one of the best penny stocks now.
Use These Tips for Safely Investing in Penny Stocks
If you want to invest in penny stocks, the first rule of thumb is to use caution. These are speculative investments, and it's never a good idea to put all of your investment dollars into one basket. Money Morning recommends that you set a budget for this class and limit your overall investment in penny stocks to less than 2% of your portfolio.
One reason is that, unfortunately, there are many scams associated with penny stocks. A common one is the pump and dump scheme, where a promoter will own shares of a stock, "pump" up the share price through promotions, and then sell, or "dump," their shares before unknowing shareholders can get out.
5G Is Coming: The tech breakthrough of the century could rest on this $6 stock - get all the details here.
The best way to avoid these scams is to limit your purchases to stocks that trade on the major exchanges, such as the Nasdaq and NYSE. The smaller exchanges, such as the over-the-counter exchange and pink sheets, are less regulated.
You will also have a greater chance of profiting from penny stocks if you choose companies that are in strong industries, such as technology, energy, and biotech.
Finally, it's a good idea if the stocks you target have received attention from several Wall Street analysts. Specifically, there should be "hold" or "buy" recommendations and price targets above the current trading price.
Given these rules, our pick for one of the best penny stocks to own now is considered a "winner." This is an international semiconductor company that currently trades for around $2 per share and has an upside worth double-digit gains.
One of the Best Penny Stocks to Buy in May 2019