While volatility can rattle Wall Street's blue-chip stocks, it can be great news for penny stocks.
That's why we're bringing our readers the top five penny stocks to buy in May.
The S&P 500 experienced its worst May trading day in 50 years on Monday (March 13), as China announced new 25% tariffs on $60 billion of American exports.
This kind of drop sent market volatility through the roof, with the Volatility Index (VIX) jumping as much as 27%.
But penny stocks are a great investment during volatile markets like these because of their potential to bring you 100% returns without breaking the bank.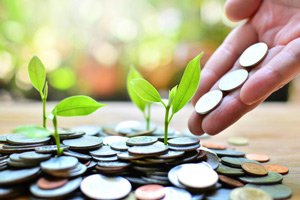 That doesn't mean penny stock investing is for everyone. Many penny stocks can lack the strong financial backing to turn into profitable companies, while others may turn out to be scams.
To help our readers steer clear of these pitfalls, we use the Money Morning Stock VQScore™ system. Our VQScore system finds profitable companies and ranks them on their growth potential.
This week, the VQScore system has found five of the best penny stocks, all with perfect VQScores of 4.75, indicating they have the highest profit potential possible.
Three of May's top penny stocks could even deliver triple-digit returns. In fact, our top penny stock to buy in May could jump as much as 156%...
Top Penny Stock to Buy in May, No. 5: Xinyuan Real Estate Co. Ltd.
Xinyuan Real Estate Co. Ltd. (NYSE: XIN) is a Chinese real estate firm.
Founded in 1997, the company aims to create retail development for middle-income Chinese consumers. And business is booming.
At the moment, China has the largest amount of middle-class consumers in the world - over 500 million people.
And that number is expected to jump to 600 million in the next two years. No wonder real estate development accounts for 30% of China's GDP.
That kind of growth is fueling aggressive growth in Chinese real estate development and demand. In fact, between 2013 and 2016, prices soared 54% in Beijing alone.
Xinyuan is perfectly positioned to capitalize on this growth due to the wide range of subsidiaries.
Xinyuan currently controls 11 subsidiaries that provide a full range of housing development services covering landscaping and intercom installation systems.
By offering a range of real estate development services, Xinyuan can profit from every stage of the housing development for China's booming middle class.
And those kinds of returns can line shareholder pockets.
Xinyuan currently trades for $4.44. But it could go through the roof at the drop of a hat as China's housing market continues to grow. Like this next penny stock, for example, poised to gain 100% in the next year...
Top Penny Stock to Buy in May, No. 4: AK Steel Holding Corp.
AK Steel Holding Corp. (NYSE: AKS) is a steel manufacturing company headquartered in Butler County, Ohio.
The firm currently operates eight steel plants across the Midwest and is a significant supplier of steel to the American automobile industry.
While growing demand from the auto industry is certain to boost the company's bottom line, the company's real profit potential is in rising global steel demand.
Analysts expect global steel demand will rise by 1.6% over the next year. India alone is anticipated to grow demand for steel by over 5%.
5G Could Mint a New Wave of Millionaires: The greatest tech shift in generations could be about to create untold wealth for investors. To find out how you could capture a life-changing SIX-figure windfall, go here now.
And as Chinese steel producers are brought to heel by Washington's trade maneuvers, American companies like AK Steel will be able to pick up the slack and fulfill growing global demand.
Over the last three years, AK's gross profits have risen 37%. This kind of jump gives the company the resources to invest aggressively in expansion and reward shareholders.
And Wall Street thinks these kinds of returns are going to pay off. Analysts believe the company's stock could jump as much as $5 in the next year.
That's a return of over 100% from today's price of $2.27.
Top Penny Stock to Buy in May, No. 3: Hi-Crush Partners LP
Hi-Crush Partners LP (NYSE: HCLP) is an oil infrastructure company, providing logistical solutions for the nation's oil drilling industry.
Hi-Crush is a significant supplier of monocrystalline sand, an essential material for the construction of oil wells. Currently, the company produces 17.3 million tons of this material per year.
That means Hi-Crush is in a perfect position to cash in on the boom in oil drilling that's sweeping the industry.
According to analysts at World Oil, oil drilling is expected to rise by 2.5% in 2019, outpacing 2018's growth of 1.6%.
In the United States alone, the nation's shale drilling sector is expected to drill 20,000 new wells.
And that drilling is going to require a significant amount of monocrystalline - an amount that Hi-Crush is perfectly positioned to supply.
In fact, the company is already cashing in on the drilling boom. Over the last four years, Hi-Crush has managed to increase its gross profits by a staggering 164%.
And it shows no signs of slowing down. Analysts believe growing oil demand could push Hi-Crush stock to $6 - a 138% increase over today's share price of $2.51.
Top Penny Stock to Buy in May, No. 2: Just Energy Group Inc.
Just Energy Group Inc. (NYSE: JE) is a Canada-based natural gas and electric company operating in markets across the globe in countries including the UK, Ireland, Germany, and Japan.
Providing energy to 4.5 million customers, Just Energy owns several affiliate companies, including Hudson Energy, Commerce Energy, Tara Energy, and several other regional firms.
Just Energy supplies natural gas and electricity to 13 American states as well as six provinces in Canada.
The company's diverse market access has allowed it to decentralize risk and maximize its return on equity.
In fact, Just Energy currently sports an astonishing 540% return on equity, indicating that the company is allocating its cash flow in a way that maximizes the company's returns.
This kind of efficient allocation has analysts calling for a high price of $9.99 - a 155% gain over today's price of $3.52.
But Just Energy is just shy of this next stock's profit potential - analysts project 156% growth.
The Top Penny Stock to Buy in May