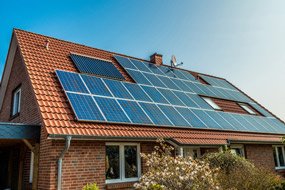 Hopefully, you've been using the Money Morning Stock VQScore™ system.
The VQScore is picking winner after winner using a proven, proprietary formula for selecting stocks.
In 2019 the VQScore has found the honeypot of all honeypots, a sector that is generating huge profits for investors that followed our lead: solar.
This week we are going back to the well with another highly rated VQScore stock handpicked from this top sector. As the solar industry continues to boom, today's stock is poised to absolutely skyrocket.
Best of all, the solar industry's growth means we can pull in pure profits no matter what the broader market is doing.
Forget about the noise of a trade war with China.
Instead, stick to sectors like solar that are doing well thanks to evolutionary trends that will not be stopped any time soon.
The cost of solar technology has dropped precipitously, fueling today's growth.
Tomorrow's growth will be even more spectacular.
The Solar Energy Industries Association noted recently that solar installation in the United States had hit 2 million. And that's expected to double to 4 million by 2024.
5G Is Coming: The Tech Breakthrough of the Century Could Rest on This $6 Stock - Get All the Details Here
The combination of state mandates and tax credits with lower cost of installation has fueled massive growth in the sector.
No wonder the previous solar stocks identified by the VQScore are rocketing higher.
In January we recommended Vivint Solar Inc. (NASDAQ: VSLR), and it promptly gained 47%, far outpacing the rest of the market. In fact, the S&P 500 is up just 12% in that same time.
Other winning picks include Canadian Solar Inc. (NASDAQ: CSIQ), which is up 35% since selected in July 2018, and SolarEdge Technologies Inc. (NASDAQ: SEDG), up 34% in just over a month.
There is a reason these stocks have done so well, and there is a reason we were able to find them.
The answer is the VQScore.
Our algorithm finds the stocks that operate in the best industries poised for appreciation.
Given the expectation of 100% growth in solar installations in just five years, there is still time to buy into solar stocks.
Just this week, VQScore is flashing "Buy" on a new solar name that you can add to your portfolio today.
Here are the details...
This Is the Next Solar Stock Poised to Break Out