The Dow Jones Industrial Average will bounce back slightly after U.S. President Donald Trump's Monday announcement that the United States and China would know if a deal was possible in the coming weeks. This was on the heels of the DJIA's worst daily performance since January. More details below.
Plus: an uptick in gas prices after Saudi Arabia declares an "act of terrorism" on one of its pipelines.
Here are the numbers from Monday for the Dow, S&P 500, and Nasdaq:
| | | | |
| --- | --- | --- | --- |
| Index | Previous Close | Point Change | Percentage Change |
| Dow Jones | 25,324.99 | -617.38 | -2.38 |
| S&P 500 | 2,811.87 | -69.53 | -2.41 |
| Nasdaq | 7,647.02 | -269.92 | -3.41 |
Now, here's a closer look at today's Money Morning insight, the most important market events, and stocks to watch.
The Top Stock Market Stories for Tuesday
Markets are up slightly after President Trump said late Monday that the countries would know within a few weeks whether a deal can be finalized. That said, China is aiming once again at American products including cameras, tequila, and a list of agricultural goods. This will directly impact the U.S. farming community, which has already experienced significant pain due to the ongoing trade spat between the countries. Although some economists on both sides of the Pacific Ocean have shown signs of cautious optimism over a deal, it's clear the window is closing fast.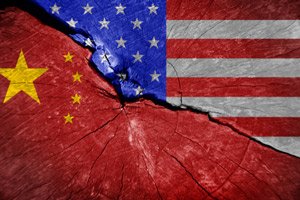 Oil prices are ticking higher after Saudi Arabia announced that drones were responsible for terrorism against two pipelines. Saudi Energy Minister Khalid al-Falih calls the incident earlier this week an "act of terrorism" but said that pipeline service was not interrupted. No one has claimed responsibility for the attack. WTI crude oil was up 1.28% to hit $61.82, while Brent crude gained 1.47% at $71.26.
Finally, the price of Bitcoin was back up above $8,200 as its incredible rally continues. The world's largest cryptocurrency rallied by more than $1,200 in a day, while its counterpart, gold, lifted to a one-month high in the wake of the trade battle. It appears that global investors are turning to Bitcoin as a safe haven of money. Many analysts believe that Bitcoin is set for another parabolic rise and that it could create another buying frenzy should it top $10,000 soon. Find out how you can maximize your Bitcoin profit here.
Stocks to Watch Today: TTWO, FB, WMT, AMZN
Shares of Take-Two Interactive Software Inc. (NASDAQ: TTWO) were up 0.5% after the company reported earnings Monday. The firm claimed stronger profits, with earnings coming in at $0.78. However, revenue dipped below Wall Street expectations, and the company's guidance remained weak due to rising competition from games like Fortnite.
"Millionaire-Maker": A potential upgrade taking place behind the scenes could send the Bitcoin price to unprecedented highs. Few people even know about this game-changer. Click here to learn how you could make millions...
The ongoing privacy lapses at Facebook Inc. (NASDAQ: FB) appear to have generated so much outrage in Washington that the company may require 20 years of U.S. government oversight. According to reports by CNBC, the firm is on the verge of a deal with the government to resolve a probe about U.S. consumer privacy dating back to 2011. The firm may also pay roughly $3 billion in penalties to the Federal Trade Commission.
Shares of Walmart Inc. (NYSE: WMT) are ticking up 0.8% in pre-market hours as the U.S. retailer attempts to rebound from yesterday's market rout. Its headlines are making waves thanks to the announcement of one-day delivery for more than 200,000 items on its e-commerce site. The strategy is directly aimed at Amazon.com Inc. (NASDAQ: AMZN), which announced a similar service in April.
The Shocking Reason Why We Think Bitcoin Could Hit $100,000 (and How You Could Make Millions)
Cryptocurrency legend Michael Robinson just revealed the little-known details regarding the future of Bitcoin... and why at any moment, it could be poised for a record-breaking rebound far beyond anything we've witnessed already.
Michael made a prediction about Bitcoin way back in 2013 - and folks who followed his advice stood to become 253 times richer. I'd venture to say not one in 10,000 people are aware of the massive profit potential unfolding right now.
Follow Money Morning on Facebook and Twitter.
About the Author
Garrett Baldwin is a globally recognized research economist, financial writer, consultant, and political risk analyst with decades of trading experience and degrees in economics, cybersecurity, and business from Johns Hopkins, Purdue, Indiana University, and Northwestern.