The Dow Jones today will stay relatively flat after the Trump administration announced it would target Chinese telecommunications companies with a new executive order. Details below.
Other DJIA impacts: why oil is rising and why Tesla keeps losing executives.
Here are the numbers from Wednesday for the Dow, S&P 500, and Nasdaq:
| | | | |
| --- | --- | --- | --- |
| Index | Previous Close | Point Change | Percentage Change |
| Dow Jones | 25,648.02 | +115.97 | +0.45 |
| S&P 500 | 2,850.96 | +16.55 | +0.58 |
| Nasdaq | 7,822.15 | +87.65 | +1.13 |
Now, here's a closer look at today's Money Morning insight, the most important market events, and stocks to watch.
The Top Stock Market Stories for Thursday
Markets ticked higher thanks to better-than-expected earnings reports from Walmart Inc. (NYSE: WMT) and Cisco Systems Inc. (NASDAQ: CSCO). Walmart missed revenue expectations in its earnings report, but it did offer a surprise uptick in same-store sales. Shares added 2.2% before the bell. The earnings report was especially positive for its online business, which saw a 40% jump last quarter. It will be another busy day on the earnings front, so pay close attention to a number of tech giants that are trying to avoid negative factors like the ongoing trade spat between the United States and China.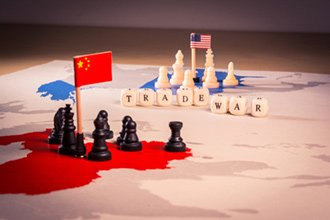 The Trump administration has taken another shot at China. And this one could create a significant number of headaches for some of America's technology giants. U.S. President Donald Trump has signed an executive order that will prevent American companies from using telecommunications gear from sources his administration deems a national security threat. The executive order is targeting Chinese equipment manufacturer Huawei (and sending a message to Chinese officials). However, a number of U.S. companies could see problems due to their relationship with Huawei. This list of firms includes Intel Corp. (NASDAQ: INTC), QUALCOMM Inc. (NASDAQ: QCOM), and Microsoft Corp. (NASDAQ: MSFT).
Oil prices pushed higher again Thursday thanks to ongoing tensions in the Middle East. Despite a rise in U.S. inventory levels last week, according to the Energy Information Administration, crude prices pressed higher after the United States pulled its staff from the American embassy in Baghdad, Iraq. The U.S. pulled its diplomats after alleged threats from Iran. According to reports, Iran has threatened to breach its 2015 nuclear arms deal due to U.S. sanctions that have hammered the nation's oil exports. Waivers that have allowed some nations to purchase Iranian crude will expire at the end of the month, prompting an escalation in tensions between Tehran and Washington.
Stock to Watch Today: NVDA, PGE, TSLA
Shares of Nvidia Corp. (NASDAQ: NVDA) are in focus Thursday as investors eye the tech giant's earnings report. Shares had gained more than 25% since the start of the year, but pulled back quickly due to rising tensions between the United States and China. The latter country is a critical gaming market for NVDA stock; however, the U.S. decision to increase tariffs last week from 10% to 25% on certain Chinese goods led to retaliation by Beijing officials. New tariffs on American goods sent to China will affect the U.S. semiconductor industry. Expect a significant amount of discussion on that subject during the company's earnings call.
SIT THIS ONE OUT and you could miss an American economic revolution that could send three little pot stocks soaring up to 1,000%. Click here to see why…
Shares of PG&E Corp. (NYSE: PCG) are sliding after California fire officials announced that the company's transmission lines were responsible for last year's destructive wildfire that killed 85 people.
Surprise: Tesla Inc. (NASDAQ: TSLA) is losing yet another executive. Dave Arnold, the electric vehicle maker's senior director of communications, will be leaving the company after less than three years at the firm. This is just the latest high-profile employee to depart Elon Musk's company. Musk is still battling the SEC over his Twitter account and statements he has made about the company using social media. TSLA stock is down 0.5% in pre-market hours.
John Boehner Just Revealed Why He's Going ALL IN on Marijuana (Did You Miss It?)
Former Speaker of the House John Boehner – once the cannabis industry's most staunch opponent – just revealed an UNCENSORED prediction about America's most controversial, misunderstood, and what's quickly becoming our most lucrative industry. If you missed seeing this historic announcement live, go here for a special rebroadcast.
Follow Money Morning on Facebook and Twitter.