You're probably familiar with the blank, weathered walls of storefronts that fell victim to the "retail apocalypse." Some have been bare for years, while others are freshly scraped.
While brick-and-mortar retailers - and retail stocks - are falling out of favor, one company is turning the misfortunes of companies like Sears and Toys R Us into nationwide growth.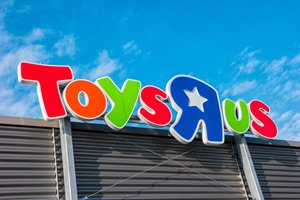 These companies aren't alone in their failures, though. Internet retailers like Amazon.com Inc. (NASDAQ: AMZN) have been taking bigger bites out of the retail industry every year, with e-commerce accounting for 14.3% of retail sales in 2018 (it was under 10% prior to 2015).
The effects have already been seen before our very eyes.
Toys R Us filed for bankruptcy in 2017, after 70 years of operation. Since then, Toys R Us has closed all 735 of its U.S. locations, and many of them are still collecting dust.
The "retail apocalypse" then set its sights on Sears. The company filed for bankruptcy in late 2018.
5G Is Coming: The tech breakthrough of the century could rest on this $6 stock - get all the details here.
Sears has since desperately tried to find profitability by closing locations around the country. It announced closure of 80 stores in January 2019, adding to the 400 already closed since filing chapter 11 bankruptcy.
Several other retail store closures have taken place around this trend, announcing 2019 closures of many money-losing stores from last year. Macy's Inc. (NYSE: M) plans to close eight stores in 2019, J.C. Penney Co. Inc. (NYSE: JCP) will shoot for 27, and Bed Bath & Beyond Inc. (NASDAQ: BBBY) is looking at 40.
But the retail apocalypse is turning into a huge growth opportunity for one company.
This Stock Is Spring-Boarding off Brick-and-Mortar Closures
It's no secret that brick-and-mortar stores are getting crushed right now, but it's getting even worse. Reports by UBS Group AG (NYSE: UBS) show a 25% rise in e-commerce by 2026 and another 75,000 retail store closures in that same time frame.
CNN reported that up to 25% of malls that existed in 2017 will be closed by 2022.
That means hundreds of empty retail stores are going to be sitting unused. These are large buildings in commercial areas that aren't as easy to sell and lease as a home. After all, the retail sector is drying up, so these high-traffic storefronts just aren't in demand.
But they are perfect for one company's nationwide expansion plan.
And it's also creating a massive catalyst for its stock.
In fact, 100% of analysts give its stock a "Buy" or "Hold" rating, and we agree. The Money Morning Stock VQScore™ system gives this stock a VQScore of 3.15, meaning it's an excellent growth stock.
Around 5,000 retail stores closed between 2017 and 2018, when this company just happened to see 167% growth.
But here's the real reason analysts keep raising their price targets for this stock...
This Is the Stock to Buy in the Retail Apocalypse
[mmpazkzone name="in-story" network="9794" site="307044" id="137008" type="4"]
Planet Fitness Inc. (NYSE: PLNT) is using the retail apocalypse to fuel a nationwide expansion, and it's turning into one of the best stocks you can buy.
Planet Fitness currently runs 1,742 locations nationwide, but it plans to grow to 4,000 gyms, more than doubling its size. And it's going to do so thanks in part to the retail apocalypse.
The company announced on Monday, May 6, that it would be adding 225 gyms in 2019 to its current 1,742 locations. Some of them will be old Toys R Us spaces and among the 80 Sears locations that were shut down earlier in 2019.
And with roughly 700 Toys R Us and Sears locations across the United States, Planet Fitness will have plenty of prime, functional real estate to fuel its growth strategy.
Plus, the cherry on top is a new partnership helping fuel this expansion. Planet Fitness recently made a deal with Kohl's Corp. (NYSE: KSS) to lease space adjacent to 10 of its stores. If successful, it plans to expand the partnership even further.
But the glut of brick-and-mortar real estate is just part of the equation of what makes this stock such a buy.
The company's $10/month membership and "judgment free" campaigning has been a roaring success. It's added 12.5 million members since its founding in 1992.
By the end of 2019, Planet Fitness will likely be 50% of the way to its 4,000-gym goal. It's added about 600 of its current gyms in the last four years, and its Q1 2019 earnings report showed a 188.33% year-over-year increase in cash on hand (now $367 million), which means it's accumulating the funds needed to add more. Even as brick-and-mortar stores are dying, Planet Fitness keeps growing. It offers a service even Amazon can't beat.
This company's management decisions only give investors more cause for bullishness. Net income has more than doubled between 2017 and 2018, from $33 million to $88 million. And, as a service-oriented company, Planet Fitness profits are unlikely to be consumed by today's geopolitical climate.
Planet Fitness stock has performed exceptionally well since first going public in 2015. Over just those four years, shares grew 400%. And the numbers say it won't stop soon. With a Money Morning Stock VQScore™ of 3.15, the stock is a great buy, and shares are already on the upswing.
Analysts keep boosting their price predictions for PLNT: Baird recently switched from $70 to $75, Piper Jaffray from $70 to $84. And another analyst has it at $88 after a strong Q1 2019 earnings report citing the company's 25.9% year-over-year revenue growth.
But we're shooting even higher.
Think about it. Planet Fitness revenue was $573 million in 2018, with 1,742 stores. All things equal, 4,000 stores would add up to $1.32 billion. With its 15% margin, that's profits of $197 million, a little more than double what the company made in 2018.
With more than double the earnings per share, we're looking at a share price close to $118 once it's opened all 4,000 stores, assuming its margins and price/earnings ratio stays around the same. That's a 50% increase from today's price.
You might want to wait for the price to dip before buying in, but this one is likely headed upward.
The $12 Trillion 5G Revolution Is Here!
It's the greatest breakthrough in history. It can usher in an incredible new world, potentially minting millionaires by the bucketload!
And one $6 company - that no one is talking about - could skyrocket in 2019.
Here's how you could make 10 times your money from this red-hot phenomenon.
Follow Money Morning on Facebook and Twitter.
About the Author
Mike Stenger, Associate Editor for Money Morning at Money Map Press, graduated from the Perdue School of Business at Salisbury University. He has combined his degree in Economics with an interest in emerging technologies by finding where tech and finance overlap. Today, he studies the cybersecurity sector, AI, streaming, and the Cloud.