Last Monday (May 13), Governor Kim Reynolds of Iowa signed into law a bill legalizing sports gambling in the Hawkeye State. This comes as part of a wave of legalization that's generating $3 billion for the sports gambling industry - and it could more than double your return on one sports gambling stock.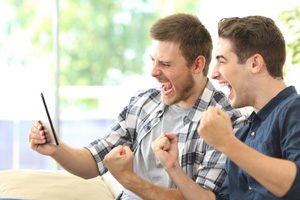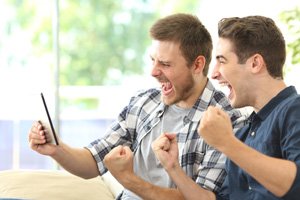 We want Money Morning readers to get in on the ground floor.
So, today, we're taking a close look at the factors driving this sudden surge in sports gambling cash.
We'll also show you a sport gambling stock that's perfectly positioned to cash in on the legalization trend.
In fact, it could bring you returns of 121% in just the next year...
Iowa Is the Bottom Floor for the Sport Gambling Revolution
Iowa's legalization efforts are the latest in a movement toward large-scale legalization that has been gaining momentum over the last year.
Before last May, federal law prevented states other than Nevada from allowing sports gambling. But after 25 years, the Supreme Court has decided to overturn it.
This move opened the floodgates - seven states have now legalized sports betting, and others are considering legalization over the next year.
THREE STATES just legalized marijuana, and these three stocks could potentially see a 1,000% boost. Click here to learn more...
It's easy to see why states are scrambling to pass legalization: It's all about taxes.
Prior to Iowa, Rhode Island was the last of the first seven states to push full-steam ahead into legalization. Now, Rhode Island is looking at a potential revenue of $11.6 million.
And that's just for the first six months following legalization.
Iowa is in the same boat. The bill signed last Monday imposes a 6.75% tax rate on sports betting revenue and will generate millions for the state over the next year.
While sports betting is certainly going to be profitable for the state, it's going to make a killing for early investors. As other states rush to cash in on legalized sports betting, the profits from regional betting companies are likely to soar from the millions well into the billions.
In fact, full national legalization could turn the nation's $400 billion black market gambling industry into a legitimate enterprise overnight.
That's an untapped gold mine just waiting for investors to dig in. And that's why it's so important to get in on the ground floor with sports gambling stocks.
Luckily, we have just the stock to help you tap into the growing profit potential of the legalized gambling industry.
This firm has slipped under the radar, but it's on track to jump 127% higher as legalized gambling sweeps the nation.
Our Top Sports Betting Stock