The Dow Jones today could rise 100 points after the U.S. government eased several restrictions on Chinese tech giant Huawei - for the time being. U.S. semiconductor companies are now ticking higher.
Other DJIA impacts: Oil on the up-and-up, earnings disappointments, and an investment opportunity you don't want to miss...
Here are the numbers from Monday for the Dow, S&P 500, and Nasdaq:
| | | | |
| --- | --- | --- | --- |
| Index | Previous Close | Point Change | Percentage Change |
| Dow Jones | 25,679.90 | -84.10 | -0.33 |
| S&P 500 | 2,840.23 | -19.30 | -0.67 |
| Nasdaq | 7,702.38 | -113.91 | -1.46 |
THREE STOCKS: Any one of these cannabis companies could potentially deliver a 1,000% windfall. Click here to learn more...
Now, here's a closer look at today's Money Morning insight, the most important market events, and stocks to watch.
The Top Stock Market Stories for Tuesday
Semiconductor stocks were pushing higher thanks to news that the U.S. Commerce Department has temporarily eased restrictions on Chinese tech giant Huawei. The agency said it will allow Huawei to deal with U.S. companies through mid-August. The decision to single out the Chinese firm has caused a significant disruption in tech companies like Apple Inc. (NASDAQ: AAPL). But it's no buffer to the biggest tech trend in decades - we'll show you how to take advantage of a trillion-dollar 5G opportunity right here.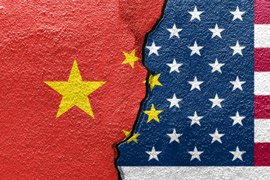 Earnings season is in full swing, and today's calendar is headlined by Home Depot Inc. (NYSE: HD). The home retailer reported its slowest growth in three years, thanks to a decline in lumber prices and wet spring weather. Lumber prices are off more than 28% since February, and the commodity represents 8% of Home Depot's sales. The firm fell well short of Wall Street's same-store sales estimates.
Oil prices were pushing higher yet again on Tuesday. WTI crude added 0.5% to hit $63.45 per barrel, while Brent added 0.4% and reached $72.31. Ongoing tensions between the United States and Iran have bolstered crude prices and raised concerns about the stability of the Middle East. This week, Iran announced that it has increased production of enriched uranium, a fact that raises new worries about its nuclear ambitions.
Money Morning Insight of the Day
Ask yourself: If you can double, triple, or quadruple your money on a stock (in as little as 72 hours or less)... does it really matter what stock you're profiting on?
Stocks do NOT have feelings. They are NOT your friends. They do NOT define who you are.
They are vessels for making money. If you can accept this fact, you are ready for the Quantum Loop - the most inventive technology in the history of finance. Watch now.
Stocks to Watch Today: TSLA, BA
Shares of Tesla Inc. (NASDAQ: TSLA) fell another 3.2% after the company received another warning from Wall Street over its rising debt levels. Morgan Stanley (NYSE: MS) issued a "worst-case scenario" for the electric-vehicle maker: $10 per share. That figure is down from a previous estimate of $97.
Shares of Boeing Co. (NYSE: BA) added 2.1% in pre-market hours after a report indicated that a bird may have caused a recent 737 Max crash in Ethiopia. Airlines around the globe have grounded the 737 Max due to safety concerns as the airline maker works on a software fix. U.S. officials have said that a sudden spike in black box data on the doomed flight was consistent with a bird or something else hitting the plane as it took off. That damage led to the shearing away of an important airflow sensor.
This Could Be a HUGE Game Changer for Congress (and for You)
We just held a live event with former Speaker of the House John Boehner and the most powerful people in the cannabis world for one important reason... to help you make a fortune from America's most controversial, misunderstood, and lucrative industry. If you missed seeing this historic event LIVE - and John Boehner's SHOCKING prediction - click here for a special rebroadcast.