The price of commodities and the stocks that rely on them don't always sync up. For example, when gold is strong, gold stocks tend to be strong, as well. But there's money to be made when the prices diverge, like the 100% gainer we'll show you today.
Right now, oil prices and oil stocks' performances over the past month have diverged. Oil prices are up 35% on the year, but oil stocks as a class are lagging behind. Take a look at the chart below.
The chart shows the relative movements of the United States Oil Fund (NYSEArca: USO), which invests in crude oil futures contracts, and the Select Sector SPDR Energy exchange-traded fund (NYSEArca: XLE) since last November. As you can see, the two move more or less together over time.
However, oil prices have broken away from the stocks over the last two months.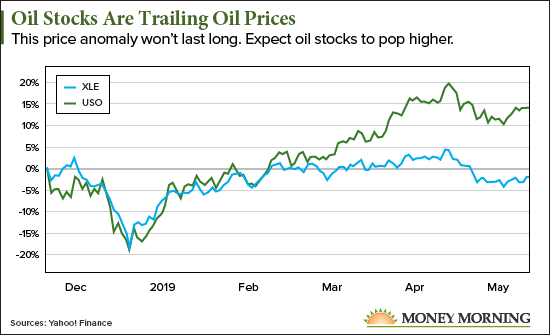 This is a great opportunity to buy oil stocks, since oil prices aren't going to sink lower.
Here's exactly why these oil prices are here to stay, plus one oil stock we expect to double once the sector rallies...
Oil Stocks by the Numbers
This anomaly exists because Wall Street isn't certain higher oil prices are here to stay. But we think they are.
We do not see any catalysts for lower crude oil prices. OPEC agreed not to increase production, so supply will remain on the tight side. Venezuela's economy is a mess, and its oil production is practically off-line.
7-Day Cash Course: With the secrets in this video series, you could potentially start collecting anywhere from $1,190, $1,313, and even $2,830 in consistent income - each and every week. And it can be yours for only $1...
And saber-rattling between Iran and the United States (which just sent an aircraft carrier group to the Arabian Sea) is only tightening the supply. This builds in quite a risk premium that should put a floor under the oil market for the time being.
If oil prices have a floor below, then in order to restore equilibrium, oil stock prices will have to rise. What this means for investors is that there is opportunity for profits in the energy sector of the stock market.
And we've got just the stock to do it with.
In fact, it's our top-rated oil stock right now...
This Sleeper Oil Stock Could Double Your Money