Today, we're giving you one of the best renewable energy stocks to buy now.
Our top renewable energy stock pick has profit potential close to 100%.
That's even more potential gains than our last solar stock play.
In January, we told readers about Vivint Solar Inc. (NYSE: VSLR), a top solar energy stock to buy. Since that time, shares are up 90%.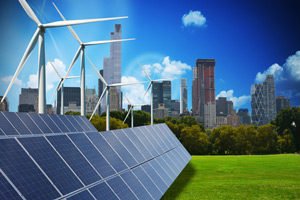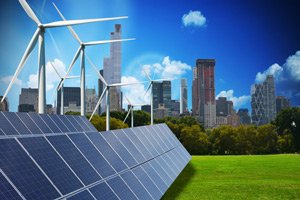 When we made this pick, VSLR scored a perfect 4.75 on our proprietary Money Morning Stock VQScore™ system, making it a candidate for breakout gains.
That's precisely what happened, and now we've uncovered another pick in this space that also has a perfect VQScore. This makes it one of the top renewable energy stocks right now.
But before we get to the stock, we want to show you exactly why investing in renewable energy can be so lucrative...
The Uncaptured $422 Billion in Renewable Energy Stocks
Sources of renewable energy, such as solar power, will eventually replace fossil fuels. And as Wall Street continues to argue over which is the best solar energy stock to own today, we've already uncovered the winners.
In fact, just last month, Germany established a new renewable energy record.
On April 22, 77% of the total energy consumed by households in Germany was produced by solar, wind, and biomass sources.
Also, Germany's output of power was greater than its consumption rate, meaning its power needs were entirely supplied by renewable resources over this period.
5G Revolution: This breakthrough technology is expected to unleash $12 TRILLION in new wealth... and one $6 stock could be better positioned than any other to skyrocket. Learn more.
Germany isn't the only country making progress on this front. Another example is what is happening in the UK.
As of May 8, the National Grid Electricity System Operator, which supplies power throughout England, Wales, and Scotland, was run completely by sources of renewable energy.
While these catalysts are happening as we speak, there is much more in store for the future.
Germany alone plans to have 65% of its power generated by solar energy and other renewable sources by 2030. The UK says that is will be rid of at least half of all coal-fired facilities by 2050.
The International Energy Agency says that renewable energy sources will deliver 30% of the world's demand for power over just the next four years. That's a 6% increase from the 24% figure in 2017.
As the entire planet continues to shift its focus to solar power and other sources of renewable energy, these are also getting more attention in the United States.
Solar energy has experienced an average annual growth rate of 50% in the U.S. over the past decade. The number of Americans working in the solar industry has more than doubled since 2012, with more than 10,000 companies in operation employing over 242,000 workers.
The worldwide solar market was given a value of $86 billion in 2015. Statista estimates that this figure will soar to $422 billion by 2022. This represents a stunning increase of 391%.
According to estimates from the Solar Energy Industries Association, about half of electricity generated worldwide by 2050 is going to come from renewables.
The industry growth that we're talking about here is the type that ground-floor investors want to see most. Even better, we've put the Money Morning Stock VQScore™ system to work to bring you another solar energy stock that's landed a perfect score.
Here's the stock some analysts say could grow 93% over the next three years.
Here Is One of the Best Renewable Energy Stocks to Buy Now
[mmpazkzone name="in-story" network="9794" site="307044" id="137008" type="4"]
SolarEdge Technologies Inc. (NASDAQ: SEDG) is one of the top renewable energy stocks to own today. The company was founded in 2006, is headquartered in Israel, and currently employs over 1,700 full-time workers.
SolarEdge focuses on designing, developing, and selling inverters for solar power systems on a global scale. The company's total list of products includes inverters, power optimizers, smart energy management and communication solutions, and a monitoring platform that is cloud-based. Its products are used in various market segments such as commercial, residential, and small-scale utility installations.
In May, it announced the expansion of its StorEdge solution by launching new inverters that are optimized to combine the management of home energy, solar, and storage. It also has plans to launch a new inverter on the market this June, with more plans for worldwide expansion in 2020.
Last year, SolarEdge reported revenue of just under $1 billion. Its forecast for 2019 revenue is $1.14 billion.
The company's earnings per share in 2018 was $3.18. They project a drop to $2.69 this year, but then a bump to $3.34 by 2020.
When the Federal Reserve increased interest rates in March, shares of SEDG were trading at $38 per share. In just two months, those shares have gone up 37%, trading around $51 per share. This is an astounding gain in a short period, but the stock is just getting started.
Over the next year alone, most analysts expect another 35% gain in SEDG shares.
But some have even said it could reach a share price of $100 within three to five years. From today's share price, this represents an upside of 93%.
Every Zip Code in America - from Duluth to Des Moines - Is Preparing for 5G... Including YOURS!
Before your neighbors realize what's going on, you could pocket a $10,000... $20,000... or even $50,000 payout from this new, incredible - and government-APPROVED - rollout.
The $12 trillion 5G market is about to take America by storm!
Here's how it could make you RICH... first!