In the face of escalating trade war rhetoric, almost no asset has escaped selling.
The S&P 500 is down 1.5%, crude oil is down about 4%, gold is nearly flat, and the price of silver is down 3.9%.
The silver price has trended downward in the entire last month, but it's definitely not forever -and there are many reasons for this.
We'll start with the simplest one, a domino effect: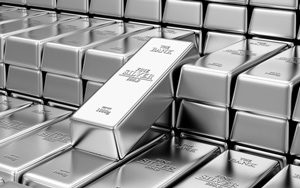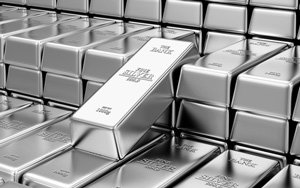 Two assets that did gain are the U.S. dollar and 10-year U.S. Treasuries.
Just as trade talks were pointing to a possible near-term resolution, discussions broke down, and the finger-pointing ramped up to new tariffs. China's also been in stealth retaliation mode for the last few months. In March, China dumped $20.5 billion in U.S. bonds.
Plus, if China's economy is too negatively affected by tariffs hurting exports, the impact could hurt the entire global economy. The Chinese economy is so large and integrated globally, it's unlikely the world economy would escape the effects.
If this scenario plays out, China's only option may be to dump large chunks of its $1.13 trillion in U.S. treasuries. That could snowball into much higher interest rates and shock inflation.
The Fed would have little choice but to cut rates. Higher inflation, together with lower rates, would be a massive catalyst for precious metals.
And with silver still so undervalued relative to gold, here's what it would take for it to soar.
How the Trade War Could Actually Boost the Price of Silver
Like I detailed earlier, the ongoing deterioration in the U.S.-China trade war could severely dent the dollar if the Fed ends up cutting rates.
But for now, the greenback has been holding up well.
See below how, in the past month, the U.S. Dollar Index (DXY) has twice bumped up against 98, which is the high end of its range going back to last October.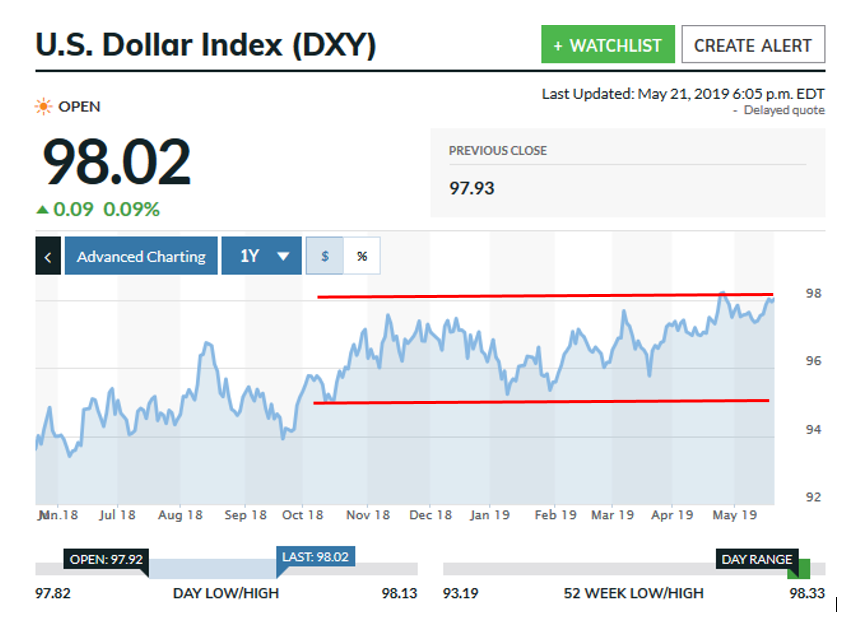 While this is typically a negative for the price of silver, remember that the dollar's recent strength looks to be a result of risk aversion. And given the deteriorating trade negotiations, investors may be turning to precious metals for safety before long, possibly at the expense of the dollar.
5G Is Coming: The tech breakthrough of the century could rest on this $6 stock - get all the details here.
The CME Group's CME Fedwatch Tool currently assigns a better than 75% probability that the Fed will cut rates by next January. If the economy is so strong and unemployment so low, the Fed should be leaning toward raising rates rather than lowering them. And all this starting from today's already-low rates.
That's exactly the kind of environment that could provide a great setup for precious metals and their corresponding equities.
A Possible Bounce in Silver Stocks
Nonetheless, silver prices have continued to weaken, breaking down below their first support level at $14.80.
The chart below shows how, despite dropping lower to the middle of its $14 - $14.80 range, the relative strength index (RSI) indicator is still not looking especially oversold.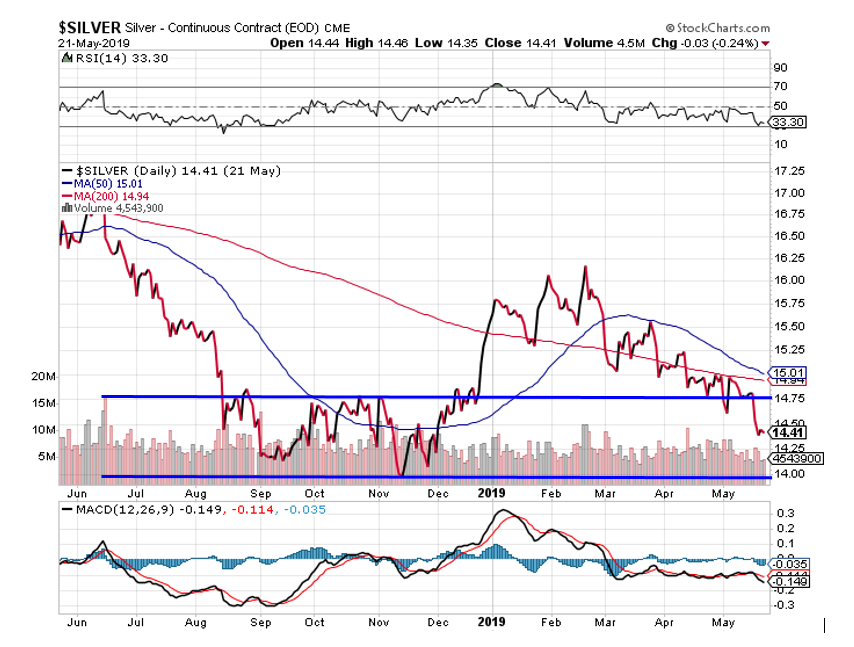 Given the usual summer doldrums, we could still see more weakness. A double bottom would pull silver down to $14, matching last November's low. After that, the price of silver would have to reach only a bit further, to $13.80, in order to match its multi-year low of late 2015.
And silver stocks have only fared worse lately: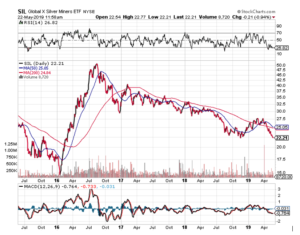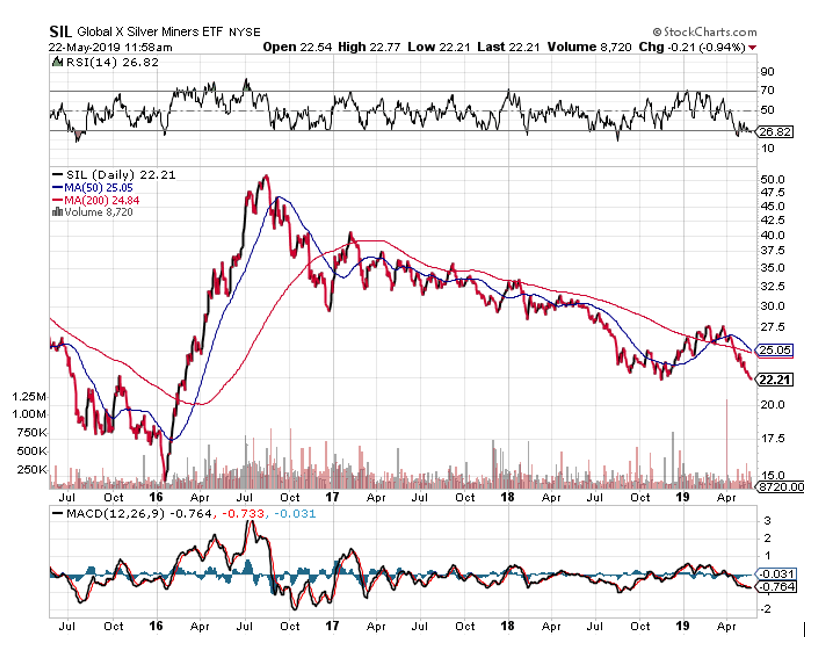 Arguably, that negative performance has potentially driven silver stocks to a near-term low.
Unlike silver itself, silver equities are already challenging their late-2018 lows, and the RSI indicator is quite oversold, tumbling below 30 down to 26.8.
This next chart is a look at the silver stocks to silver ratio.
The ratio has recently broken below support at 1.6, yet there's positive divergence with the RSI, which has been trending slightly higher.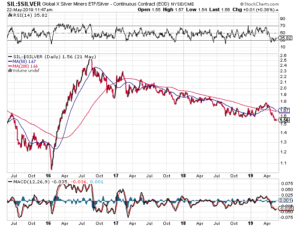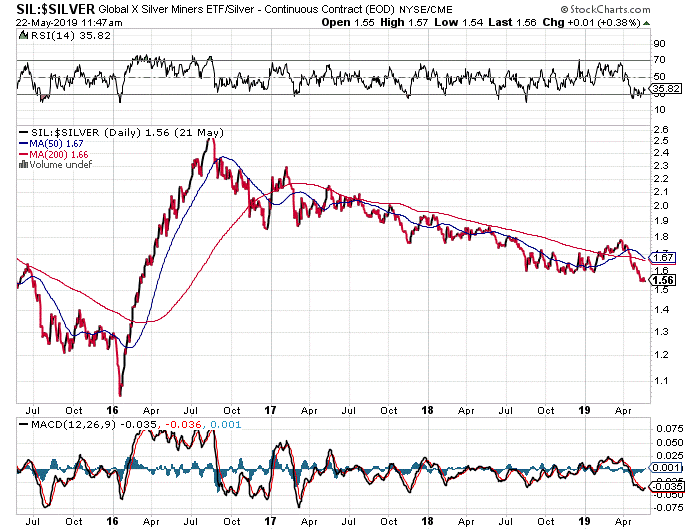 So silver stocks may indeed be due for a bounce, even if only for a limited time.
If that comes to fruition, I'd look for the Global X Silver Miners ETF (NYSE: SIL) to bounce from its current price of $22 to possibly $25, which coincides with previous resistance as well as the current 50-day and 200-day moving averages.
Despite the downright terrible sentiment and weak silver prices, my view is still very positive on silver's outlook.
In fact, thanks to the low current silver prices, numerous mines have ended up on care and maintenance, while exploration and development spending have been slashed or even eliminated.
At this point, only considerably higher silver prices will allow miners to justify restarting mothballed silver projects.
The below chart shows how little additional mine capacity has been coming online in recent years.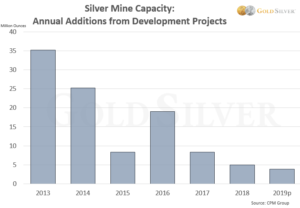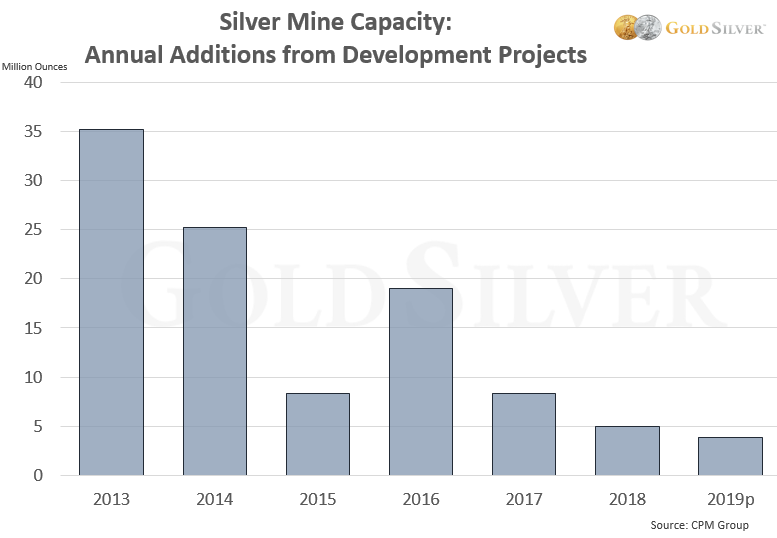 Last year's 4.9 million additional ounces is a dramatic 86% lower than just five years earlier. And this year, it's forecast to be just 3.5 million ounces.
While gold is the domain of central banks, silver is bought by individuals. And last year, according to the 2019 World Silver Survey, demand for silver coins and bars was up by an astonishing 20%.
The point is, the sharpest investors out there are accumulating silver while it gathers dust in the bargain bin. But the eternal store of value is going to regain its shine again soon, thanks to this one exceptionally rare catalyst...
A Historic Catalyst for the Price of Silver
[mmpazkzone name="in-story" network="9794" site="307044" id="137008" type="4"]
One of my favorite gauges of the relative price of silver is the gold-to-silver ratio. Right now, it's at 88, meaning it takes a stunning 88 ounces of silver to buy one ounce of gold.
That's a historical outlier.
Since 2000, the ratio has approached 80 three separate times. In each instance, it quickly dropped back.
In 2003, that reversal led to a 61% gain in silver prices over nine months. In 2008, the reversion caused silver to shoot up an astounding 128% in just 11 months. And in 2016, when the ratio corrected again, silver rallied by 28% in only four months.
You can see these important turnaround points on the chart below.
That last red circle shows the ratio currently at 88, meaning silver is even cheaper now, relative to gold, than it has been at any time in the last 20 years.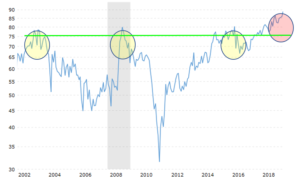 Odds are now building for a big reversion to the mean, with the silver ratio heading lower. In my view, it's likely to drop back to at least 65.
If gold were to remain around $1,300, that would imply $20 per ounce of silver, and a 38% gain from current levels.
But the gold-to-silver ratio reaching historic highs is just one catalyst for the price of silver.
The trade war could also light a fire under the metal's price...
Brace Yourself: The 5G Revolution Is Unleashing Your Next TRILLION-DOLLAR Opportunity
We've never seen anything as huge as this.
This $6 company could be set to DOMINATE a $12 TRILLION market - and when that happens, you could be celebrating with 10 times your money.