The Dow Jones today will correct for some sizable losses over the last couple of weeks, though investors remain careful amid fragile U.S.-China trade relations.
Also moving the DJIA: British Prime Minister Theresa May has resigned from her post. More on this below.
Here are the numbers from Thursday for the Dow, S&P 500, and Nasdaq:
| | | | |
| --- | --- | --- | --- |
| Index | Previous Close | Point Change | Percentage Change |
| Dow Jones | 25,490.47 | -286.14 | -1.11 |
| S&P 500 | 2,822.24 | -34.03 | -1.19 |
| Nasdaq | 7,628.28 | -122.56 | -1.58 |
Now, here's a closer look at today's Money Morning insight, the most important market events, and stocks to watch.
The Top Stock Market Stories for Friday
The U.S. trade standoff continues to rattle global sentiment. Yesterday, U.S. President Donald Trump predicted that a deal with China will happen fast because he "cannot imagine" China will be thrilled with thousands of firms leaving its shores. Both nations have blamed each other for the breakdown in talks and are preparing another huge hike in tariffs. Despite Trump's claim that China is paying tariffs, an IMF analysis of the tariffs has shown that virtually every dollar paid so far has been shouldered by American importers. But consumers can cut those losses by profiting from this trend right here.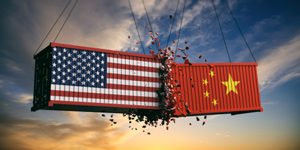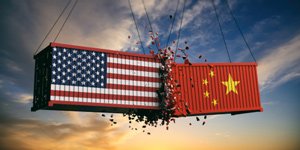 Theresa May has retired as Prime Minister of Great Britain. The embattled leader spent months trying to secure a deal that would provide a steady withdrawal by her country from the European Union. May expressed "deep regret" that she failed to reach a consensus with lawmakers. May will remain in the position of power until a new leader is selected. Keep in mind that it has been three years since British voters passed the referendum to depart the EU; however, the nation is still no closer to a deal with a fall deadline fast approaching.
Oil prices ticked higher this morning after a brutal Thursday sell-off. The combination of rising inventories in the United States, mixed with easing tensions in the Middle East, pressed WTI crude down nearly 6% yesterday. That weighed heavily on energy and chemical stocks. This morning, crude prices gained more than 1%. However, crude is set for its worst week of 2019.
Stocks to Watch Today: AMZN, CMG, FL
John Boehner Just Revealed Why He's Going ALL IN on Marijuana (Did You Miss It?)
Former Speaker of the House John Boehner - once the cannabis industry's most staunch opponent - just revealed an UNCENSORED prediction about America's most controversial, misunderstood, and what's quickly becoming our most lucrative industry. If you missed seeing this historic announcement live, go here for a special rebroadcast.