Volatility in the stock market is rising once again thanks to the trade war with China. But our pick for one of the top penny stocks to buy this week could produce market-beating gains.
The Dow Jones Industrial Average dropped more than 470 points on May 6 in the wake of reports that U.S. President Donald Trump would impose $200 billion worth of tariffs on Chinese goods should the country fail to meet his terms.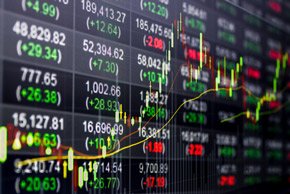 There is an ongoing economic battle between these two countries, and the CBOE Volatility Index (VIX) surged to 20.55, which is its highest level since January.
The good news is that market volatility is an excellent environment for penny stock investors.
You see, penny stocks thrive in volatile markets because these low-priced stocks can generate massive returns with small moves in their share prices.
$1 Cash Course: Tom Gentile is offering a rare opportunity to learn how to amass a constant stream of extra cash - year after year. And he's going to teach you how to do it entirely on your own. Learn more...
When the market is particularly volatile, a top penny stock can double your investment in just a few days or a week. While these are rare, it does happen.
Another thing to know about buying penny stocks is that they are speculative investments, meaning they're risky. If you're looking for a penny stock to buy, your choices can't be arbitrary.
Before we get to our pick for the top penny stock to own right now, here are a few tips that can keep your investment dollars safe in this market. Then, we have a penny stock pick for you with market-beating potential.
Tips for Buying Penny Stocks Today
If you're going to buy penny stocks, it's essential that you first set a budget. Money Morning recommends that you only make penny stock investing a small portion of your overall portfolio to limit your risk.
That being said, it only takes a small investment to return substantial gains in a penny stock if you make the right pick.
It's best to stick to stocks that trade on the major exchanges such as the New York Stock Exchange and Nasdaq. These have tighter restrictions on companies than smaller exchanges like pink sheets or over-the-counter exchanges. This can cut down on the chances that you'll become the victim of a scam.
Another tip is to look for stocks that are getting positive attention from Wall Street analysts. Specifically, you want to find a stock that has "Buy" or "Hold" recommendations, as well as price targets above the current trading price.
Finally, target penny stocks that have significant breakout potential. These might be in certain industries such as technology, biotech, cannabis, or energy. It can also be a company that is well-positioned as a takeover target, which would cause the share price to soar.
Now that volatility in the market is elevated, it's an ideal time to look for the best penny stock with double- or even triple-digit upside.
And we're going to save you the trouble of searching through thousands of choices, since we've already uncovered it.
This U.S.-based steel company is capitalizing on Washington's plans to fulfill rising global demand and boost this industry.
Even better, it has a perfect 4.75 score from our proprietary Money Morning Stock VQScore™ system, which means that it is poised for a breakout.
And this is a stock that is trading at just $2.01 per share, but analysts are predicting that it is going to surge 149% higher...
This Is One of the Top Penny Stocks to Buy This Week
[mmpazkzone name="in-story" network="9794" site="307044" id="137008" type="4"]
AK Steel Holding Corp. (NYSE: AKS) is our pick for the top penny stock to buy now. It is an Ohio-based steel manufacturer and currently employs more than 9,500 full-time staff.
It focuses on producing stainless steel products and flat-rolled carbon in the United States and internationally. Many of its products are used in auto manufacturing, general manufacturing, and infrastructure projects.
AK Steel runs eight plans throughout the Midwest and points to the rising demand from the auto industry as a catalyst for growth. Another plus for the company is the rising demand for steel worldwide.
According to analysts, the global demand for steel will increase by 1.6% in just the next year. The growth in India alone is expected to hit 5% or more.
The changing trade restrictions out of Washington are placing increased pressure on steel producers in China, which means that American steel companies will be asked to fill in the gap domestically and help fulfill the rising global demand.
Fortunately, AK Steel is in an ideal position to handle this. AK's gross profits have jumped 37% over the past three years alone. This increase allows the company to produce the profits it needs to aggressively invest in expansion and reward shareholders.
Wall Street agrees that this is a company that is going to produce massive wealth. Analysts predict a share price jump to as high as $5 over the next year.
This represents a return of 149% for today's investor. Provided the stock market continues to be as volatile as it is right now, those returns could be even higher.
Accelerate Your Gains: Stocks will make you money, but trading can set you up for life. With the secrets in this video series, you could potentially start collecting anywhere from $1,190, $1,313, and even $2,830 in consistent income - each and every week. See for yourself...