Beyond Meat Inc. (NASDAQ: BYND) is the newest IPO to hit the market this year. And unlike the rest of the "unicorn" flops like Lyft Inc. (NASDAQ: LYFT) and Uber Technologies Inc. (NYSE: UBER), Beyond Meat stock is skyrocketing.
In fact, since its debut at $46, its share price has soared 73% to $79.55. And longtime Money Morning readers know we rarely recommend IPOs, due to their inherent risk and volatility.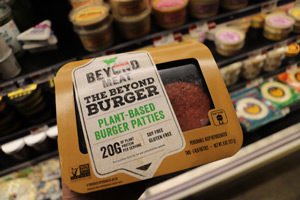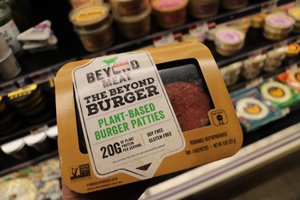 But Beyond Meat stock is one of the few exceptions. So, if you were on the fence about buying Beyond Meat stock after the IPO, don't be. This one is an absolute buy - with a slight catch.
Money Morning Executive Editor Bill Patalon has been singing praises of Beyond Meat for a while in Private Briefing. In fact, his Private Briefing readers all knew well ahead of time how big Beyond Meat stock would become - and are now enjoying that 87.2% gain.
5G Is Coming: The tech breakthrough of the century could rest on this $6 stock - get all the details here.
And even with its skyrocketing share price, Bill still says Beyond Meat stock is a definite purchase. But instead of jumping in at its highs, wait for pullbacks. This is known as the accumulative approach - buying some over time whenever prices go down.
A big reason for this is Beyond Meat's sheer potential in the long term. It's already shown the extraordinary growth the plant-based meat industry is seeing. However, we think this trend will continue on years into the future as well.
But there's more on why Beyond Meat stock saw such explosive success at the IPO...
Plant-Based Meat: an Impressive Growth Story
For the last decade alone, concerns over the effects of meat consumption on both our personal health and the environment have been steadily increasing. And many have grown concerned over the effects of factory farming on animal welfare as well.
These growing concerns have now driven a movement worldwide to cut back on the consumption of meat.
And the result is the spike in the plant-based meat market. Between 2012 and 2018, the number of foods and beverages mentioning plant-based products skyrocketed roughly 270%, according to a report by Mintel's consumer research division.
But that's only the beginning.
The plant-based meat market is forecast to increase by almost 50% between 2018 and 2023 from $4.6 billion to $6.4 billion, according to ResearchandMarkets. The U.S. market alone is also forecast to soar to $35 billion. That's a 661% climb from 2018.
And the movement will continue as Beyond Meat is leading the plant-based meat movement.
Beyond Meat Is an Industry Leader
Founded in 2009 by vegan Ethan Brown, Beyond Meat's sole focus is on developing plant-based meat. Brown's family co-owned a dairy farm in Maryland where he would spend his summers as a kid.
During his times on the farm, he wondered whether animals were absolutely necessary to create what we perceive as meat.
Eventually, these thoughts brought him to meet with two professors from the University of Missouri who were working on such a product. And by 2013, Beyond Meat's first product, plant-based chicken strips, were available at Whole Foods in the United States.
Beyond Meat's products consist of all-natural ingredients like pea protein and potato starch. But the company puts in a great deal of effort to re-create all of the base properties of meat using plant products.
And Beyond Meat's products are considered healthier, to a degree, than actual meat. There is significantly less cholesterol and fat, but the tradeoff is that there is more sodium.
However, its products are also substantially better for the environment than meat. For example, the company's plant-based burgers require 99% less water and 93% less land than the average beef patty - and their production results in 90% fewer greenhouse gas emissions.
Because of this, Beyond Meat has attracted the attention of well-known investors like Bill Gates of Microsoft Corp. (NASDAQ: MSFT) and Leonardo Dicaprio to help establish Beyond Meat as a standard option for burger chains.
And right now, Beyond Meat's products are available in more than 30,000 restaurants, grocery stores, and schools in the United States, UK, Israel, and Italy.
But while the company is absolutely dominating the market, it isn't without competition.
Yes, There's Competition in the Market
While Beyond Meat's stock has been performing well since its IPO, there are some risks with it as well - one of which is the growing competition in the plant-based meat market.
And its biggest competitor is the private company behind the Impossible Burger, Impossible Foods. On top of that, this company recently announced its partnership with Burger King to produce an "Impossible Whopper" after a successful trial run in St. Louis, which is a pretty big deal.
However, Impossible Foods isn't the only one ramping up its efforts. In fact, the furniture store Ikea offers an incredibly popular selection of food in its restaurant section. And even this company plans to implement plant-based Swedish meatballs by 2020.
Fortunately, Beyond Meat has a competitive advantage over these two companies, especially Impossible Foods. Nothing in Beyond Meat's products is genetically modified (while the Impossible Burger relies on modified soy leghemoglobin as a crucial ingredient).
But Beyond Meat's biggest competitive advantage is that its products are available in the meat sections of grocery stores as well as restaurants - something Impossible Foods has yet to achieve.
And while Beyond Meat stock is performing well now that it has gone public, what do its financials look like?
Here's Why You Should Buy Beyond Meat Stock