Volatility rose in the broad markets in mid-May, but it didn't have much effect on the best stocks under $5 to buy. In fact, our top pick is expected to shoot up 200% this year.
The S&P 500 had its worst-ever trading day on May 13, which was attributed to China levying new tariffs of 25% on U.S. exports worth $60 billion.
The Volatility Index (VIX) rose 27%. But this was good news for the top penny stocks.
They remain good investments during volatile seasons because of their low entry point and potential for returns to double. They carry risk, of course - penny stocks are always a volatile investment class - but their reward potential is also very high.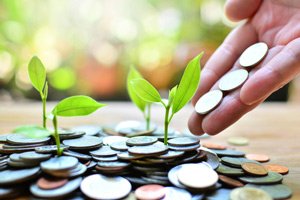 To assist our readers in finding the best stocks under $5, we utilize our Money Morning Stock VQScore™ system. It orders companies according to their potential earnings and profit growth. We select the ones selling for $5 or less to arrive at our best penny stocks.
The potential profits on this list range anywhere from 100% to over 200%... In fact, our favorite penny stock has profit potential of 207%.
But this first pick also has significant chance for growth - thanks to a key catalyst - with a 4.75 VQScore.
Best Stocks Under $5 to Buy, No. 5: Xinyuan Real Estate Co. Ltd.
Xinyuan Real Estate Co. Ltd. (NYSE: XIN) has been developing real estate for middle-income consumers in China since 1997.
Development of real estate constitutes 30% of the gross domestic product (GDP) in China, and China has the biggest middle class on the planet, so this company is cornering a huge market.
And the market is still growing. Over the next two years, the Chinese middle-class population is forecast to rise to 600 million.
The high population growth rate has historically driven further demand and development of real estate in China. From 2013 to 2016, real estate prices popped 54% in Beijing.
Xinyuan is well positioned to capitalize on population growth because its 11 subsidiaries also offer housing services such as landscaping and intercom installations.
SIT THIS ONE OUT and you could miss an American economic revolution that could send three little pot stocks soaring up to 1,000%. Click here to see why...
XIN currently sells for $4.41 per share. As the Chinese housing market continues to skyrocket, the stock could as well.
In fact, the stock is trading at 3.89 times earnings, so it's incredibly undervalued when you compare it to the real estate development industry's price/earnings (P/E) ratio of 26.50.
If the population grows as projected, the stock has plenty of room to grow. That's part of why it has a perfect VQScore of 4.75. Its earnings power is off the charts right now.
But we're just getting started. Analysts expect up to 135% gains on this next one...
Best Stocks Under $5 to Buy, No. 4: Hi-Crush Partners LP
Hi-Crush Partners LP (NYSE: HCLP) works in the oil infrastructure sector offering logistical solutions for U.S. oil drillers.
The company supplies significant amounts of monocrystalline sand, a material essential in oil well construction. It produces 17.3 million tons of this annually.
As a result, Hi-Crush is perfectly poised to benefit from the oil drilling boom taking place.
Analysts at World Oil forecast a 2.5% increase in oil drilling through 2019, more than the 1.6% seen in 2018.
But HCLP has actually been benefiting from the drilling boom for a while. It has grown gross profits an amazing 164% over the past four years.
The current share price is $2.40, but Wall Street analysts think rising oil demand could send the shares to $6.00, a soaring 135% above today's price.
That's no stretch, either. The stock is at a huge discount, trading at 3.16 times earnings, while the industry average is above 20.
But our next pick could rise even further. It has a perfect VQScore of 4.75, and some analysts predict profits over 150%.
Best Stocks Under $5 to Buy, No. 3: Denbury Resources Inc.
Plano, Texas--based Denbury Resources Inc. (NYSE: DNR) is engaged in hydrocarbon exploration.
The oil industry is booming, which is good news for this company. But its real advantage is its method of oil extraction, a cutting-edge development called "enhanced oil recovery." The method utilizes carbon dioxide to extract oil that wasn't possible to recover previously and reactivates old wells.
As a result, DNR doesn't have the high costs of developing new drilling sites. It passes those savings on to shareholders.
The company currently has operations in the Rocky Mountains and Gulf Coast. The biggest property it has goes across North Dakota and Montana, accounting for one-quarter of the region's daily production totals last year.
The high production is reflected in DNR's bottom line. In the past four years, gross profits have climbed 38%. In the past four quarters, DNR has turned in an earnings beat driven by robust demand and growth.
The stock currently trades at $1.89 per share. But Wall Street analysts think the shares could rise as high as $4.60 because of climbing global oil demand. That's an enormous advance of 155%.
And it's no stretch, either, with a P/E ratio of 2.71, only a fraction of the oil industry average of 24.20.
But analysts expect our next penny stock pick to rise 174.7%.
Best Stocks Under $5 to Buy, No. 2: AK Steel Holding Corp.
AK Steel Holding Corp. (NYSE: AKS) is engaged in steel manufacturing. Its headquarters are in Butler County, Ohio.
It runs eight steel plants in the Midwest and supplies steel to the automotive industry.
Demand from the auto industry contributes a large part of its revenue, but the reason for its high 4.75 VQScore is the potential profit from global steel demand.
Analysts forecast global demand will climb by 1.6% in the coming year.
Because steel producers in China are being affected by the trade war, U.S. companies like AK will step in to fill rising demand globally.
The past three years has also been kind to AK, as the company's gross profits have climbed 37%. This gives AK the freedom to aggressively expand and reward stockholders.
But the stock still trades at a bargain: $1.83, at 3.77 times earnings compared to an industry P/E of 18.76. Some analysts predict its price will climb to $5 this year - that's a profit of 174.7% right now.
But none of these compare to our favorite stock to buy under $5. Wall Street expects a gain of 207% on this one...
Best Stocks Under $5 to Buy, No. 1
[mmpazkzone name="in-story" network="9794" site="307044" id="137008" type="4"]
Canada-based Just Energy Group Inc. (NYSE: JE) is a global natural gas and electric supplier that operates in the UK, Germany, Ireland, and Japan. It has a consumer base of 4.5 million, served by affiliates such as Commerce Energy, Hudson Energy, Tara Energy, and several regional companies.
It also supplies electricity and natural gas to 13 U.S. states and six Canadian provinces.
As a result of its diverse markets, JE has been able to maximize its return on equity (ROE) and decentralize its risks.
Just Energy now boasts an amazing 540% ROE, which means that it is maximizing its returns by judiciously allocating cash flow.
The stock is severely undervalued at a 1.90 P/E ratio, while the energy industry average is well over 100.
Wall Street analysts are posting a high price target of $9.99, a 207% jump over the current $3.25 price.
Did You See John Boehner's SHOCKING Marijuana Prediction?
At the American Cannabis Summit - the first-ever nationwide event for cannabis investors - former Speaker of the House John Boehner revealed why he's going ALL IN on marijuana... and exactly how ordinary Americans can make a fortune from this hundred-billion-dollar industry. To see a special rebroadcast of this historic event, click here.