The Dow Jones today will take a nosedive after U.S. President Donald Trump threatened to hit Mexico with a 5% tariff on all goods entering the United States. One American industry is especially hurting from these developments.
Also moving the Dow: Oil prices continue to sink, and so do 10-year Treasuries. Details below.
Here are the numbers from Thursday for the Dow, S&P 500, and Nasdaq:
| | | | |
| --- | --- | --- | --- |
| Index | Previous Close | Point Change | Percentage Change |
| Dow Jones | 25,169.88 | 43.47 | 0.17 |
| S&P 500 | 2,788.86 | 5.84 | 0.21 |
| Nasdaq | 7,567.72 | 20.41 | 0.27 |
Now, here's a closer look at today's Money Morning insight, the most important market events, and stocks to watch.
The Top Stock Market Stories for Friday
The 10-year Treasury bond fell below 2% this morning as concerns about global trade have investors fleeing to safety. This is the lowest level the 10-year has hit since February 2018, and an inverted yield curve has analysts concerned about approaching recession. But a growing trend could make the technology sector impervious to these kinds of shocks. Investors are scrambling to get in on the ground floor of a world-changing innovation before the market erupts. More on this story right here.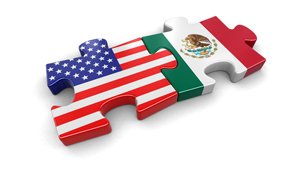 Trump said that the United States plans to impose a 5% tariff on Mexican imports starting June 10, as a punishment for allowing migrants to cross the southwestern border. The administration has also raised last-minute objections over lower labor costs in Mexico. Automotive stocks took a hit - shares of General Motors Co. (NYSE: GM), which has 14 plants in Mexico, fell 5.5% in pre-market hours. Ford Motor Co. (NYSE: F) stock was off 3.9% before the bell. The White House plans to increase tariffs by increments of five percentage points each month through October until it reaches 25%. The Mexican peso was off 2% this morning against the U.S. dollar.
Oil prices fell again Friday as markets continued to react to ongoing global trade tensions. WTI crude was off 2.1% this morning, while Brent crude slumped more than 2.8%. Despite concerns about a tight oil market and ongoing cuts from OPEC, the prospect of a trade war between the United States and China continues to rattle the markets.
Stocks to Watch Today: BIG, UBER, AMZN, S, TMUS
Shares of Big Lots Inc. (NYSE: BIG) popped more than 10% in pre-market hours after the retailer topped Wall Street earnings expectations. The discount retailer said that earnings per share came in at $0.92, well above consensus forecasts of $0.70. In addition to topping revenue expectations, the firm also increased its full-year outlook.
Shares of Uber Technologies Inc. (NYSE: UBER) were up 2.7% after the ride-sharing tech giant reported earnings after the bell Thursday. It turns out investors aren't too concerned about the fact that the firm reported a $1 billion loss in revenue during its first quarter as a public company. That's because the revenue loss was 20% better than what Wall Street analysts had projected. Shares are still below their IPO price from earlier this month.
In deal news, Amazon.com Inc. (NASDAQ: AMZN) is reportedly interested in purchasing Boost Mobile. The discount prepaid mobile operator is reportedly on the block as Sprint Corp. (NYSE: S) looks to sell in order to curry favor with regulators over a proposed merger with T-Mobile US Inc. (NYSE: TMUS).
Silicon Valley Insider Reveals the Incredible TRUTH about 5G!
The winners probably won't be measured in the millions...
Maybe not even in the billions...
They could be measured in the TRILLIONS!
Don't believe the hype? Find out how to claim your slice of a $12.3 trillion pie here.
Follow Money Morning on Facebook and Twitter.