The Dow Jones today is falling on accelerated U.S.-China trade war concerns. China has blamed the United States for "backtracking" on previous negotiations.
As these and other global circumstances continue to pressure the Dow Jones Industrial Average, analysts predict a recession in less than a year. Details below.
Here are the numbers from Friday for the Dow, S&P 500, and Nasdaq:
| | | | |
| --- | --- | --- | --- |
| Index | Previous Close | Point Change | Percentage Change |
| Dow Jones | 24,815.04 | -354.84 | -1.41 |
| S&P 500 | 2,752.06 | -36.80 | -1.32 |
| Nasdaq | 7,453.15 | -114.57 | -1.51 |
Now, here's a closer look at today's Money Morning insight, the most important market events, and stocks to watch.
The Top Stock Market Stories for Monday
The 10-year Treasury note continues to plunge on fears of slowing economic growth and potential recession. Following the brutal May sell-off in the markets, investors now anticipate the U.S. Federal Reserve will cut interest rates twice by the end of 2019. But there are still profits to be made in a downturn - that's why investors are swarming this booming market.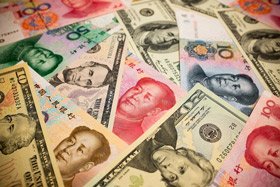 China blamed the United States for the continued failure to reach a historic trade deal. Ongoing concerns about China sent the prices of Caterpillar Inc. (NYSE: CAT) and Boeing Co. (NYSE: BA) down more than 1.1% this morning. Morgan Stanley (NYSE: MS) analysts believe that the world economy will experience a recession in "three quarters" if Trump continues to pick economic fights with major U.S. trade partners.
While the battle between the United States and China continues, pay close attention to Apple Inc. (NASDAQ: AAPL). The technology giant will host its Worldwide Developers Conference, where it will unveil new applications and innovations. Several reports indicate that the company will place a special focus on new apps developed for its iPhone platform.
Crude prices rebounded Monday after Saudi Arabia endorsed an extension to curb global outputs by the world's largest oil cartel, OPEC. WTI crude gained 1.3% to reach $54.21, while Brent crude gained 0.8%. Saudi Arabia said it wants to keep production at reduced levels in order to prevent oversupply in the market.
Stocks to Watch Today: BA, GOOGL, LVS, WYNN
Boeing Co. (NYSE: BA) is back under pressure on news that the Federal Aviation Administration announced that more than 300 of the firm's 737 jets might be "susceptible to premature failure." The FAA also said that it identified 20 jets with faulty parts and plans to investigate another 159 planes with the same parts.
Shares of Alphabet Inc. (NASDAQ: GOOGL) fell this morning on news that the U.S. government reportedly wants to bring antitrust claims against the Internet giant. The Wall Street Journal has reported that the U.S. Justice Department is exploring the company's search practices. The probe comes as Massachusetts Democratic Senator Elizabeth Warren has called for the breakup of large Silicon Valley giants.
Despite ongoing concerns about the state of the Chinese economy and the trade war, it appears that gambling revenue is heading higher. Shares of Wynn Resorts Ltd. (NASDAQ: WYNN) and Las Vegas Sands Corp. (NYSE: LVS) are gaining attention this morning on reports that year-over-year revenue growth for May increased by 2%. That uptick reverses a two-month revenue decline for the industry.
No major earnings reports will appear Monday.
Brace Yourself: The 5G Revolution Is Unleashing Your Next TRILLION-DOLLAR Opportunity
We've never seen anything as huge as this.
This $6 company could be set to DOMINATE a $12 TRILLION market - and when that happens, you could be celebrating with 10 times your money.