The trade war has caused stocks to plummet again since mid-May, but investors shouldn't worry.
After a brief recovery, the Dow has dropped another 250 points (1%), while the S&P 500 and Nasdaq have dropped another 0.9% - putting the month of May down more than 6%. That's the biggest decline since December. But this month's temporary dip is creating big opportunities for investors.
To stay ahead of the market, investors will want to focus their attention on high-yield dividend stocks. And this is especially true for domestic companies in the service and defense industries. This is because companies with U.S. operations don't rely nearly as much on global trade networks to bring in cash.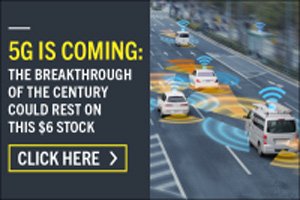 And we've uncovered the best high-yield dividend stock to buy to tackle the most recent market volatility.
While this stock hasn't completely escaped market fluctuations, it has the advantage of a hefty 8% high-yield dividend. This has us pretty excited already, but we've been bullish on this stock for over a year now thanks to its core business model.
This company has been protecting physical and digital data for close to 70 years. Currently, 95% of the Fortune 1000 companies have entrusted this firm to safeguard their information. This puts the stock in a unique position to grow regardless of Wall Street worries.
Sign up for SMS so you never miss special events, exclusive offers, and weekly bonus trades.
Everything from the
incredible dividend yield
, the potential company growth, and the upside on share price makes this a must-own stock during any market downturn.
But what makes it better is that it boasts a perfect Money Morning Stock VQScore™.
Here's why this is such a strong play right now...
Why Cybersecurity Is a Booming Sector
Well before even the Internet, consumers have been concerned over privacy. But the difference between now and then is that there are many more ways for sensitive data to be stolen.
In fact, these attacks have been increasing in regularity and severity over the last few years. In 2014, eBay Inc. (NASDAQ: EBAY) announced that 145 million user accounts had been compromised. In 2017, a massive data breach at Equifax Inc. (NYSE: EFX) compromised the information of 143 million Americans.
In the first three months of 2019 alone, the Dow Jones has been breached, and the data of more than 2 million government officials has been leaked.
Cases like this not only amplify growing concerns among consumers and businesses, but with governments as well. The EU has already addressed this by establishing the Global Data Protection Regulations that apply to 28 member countries and any firm that does business in the area.
5G Revolution: This breakthrough technology is expected to unleash $12 TRILLION in new wealth... and one $6 stock could be better positioned than any other to skyrocket. Learn more.
Last year, the cybersecurity industry was valued at $137.8 billion. Money Morning Defense and Tech Specialist Michael A. Robinson predicts this figure will soar to $231.9 billion over the next four years - a growth of 68%.
And as cybercrimes continue to increase, the cyber defense industry will increase, too. This means the sector offers an incredibly lucrative opportunity for savvy investors.
This is what makes this 8% high-yield dividend stock one of the best to own right now.
One of the Best High-Yield Dividend Stocks to Buy Now