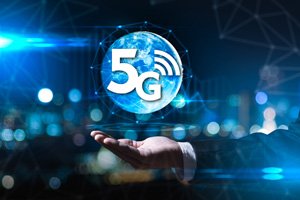 If you've been following Money Morning, you already know how bullish we are on the best 5G stocks to buy out there. In fact, we've been looking at the market every week to help our readers find the best 5G stocks without having to get bogged down in all the noise.
"5G" is the fifth generation of the latest wireless technology, and it stands to be as much as 100 times quicker than 4G networks. That type of speed means little to no delay, and it'll even enable us to connect our computers, tablets, and phones together regardless of where we are.
It's a revolutionary technology that will benefit several technology sectors. In fact, with companies working on 5G, we'll see everything from self-driving cars, wearable IoT devices, AI medical diagnosis, and even virtual reality.
5G Is Coming: The tech breakthrough of the century could rest on this $6 stock - get all the details here.
And with the 2020 5G rollout just six months away, 5G stocks are inching ever-closer to their immense potential. Companies like AT&T Inc. (NYSE: T), T-Mobile US Inc. (NASDAQ: TMUS), and Verizon Communications Inc. (NYSE: VZ) have already implemented 5G networks in places like Indianapolis and Los Angeles. But over the last 12 months alone, 5G networks have expanded to at least 30 different cities in the United States.
And these companies are just a small percentage of the total 5G market.
According to MarketWatch, 5G services are already valued at $21.53 billion. Within the next four years, that value is forecast to soar to $85.84 billion. In the next six years, ResearchandMarkets says it'll triple to $252 billion. That's a whopping 1,000% increase from right now.
That could mean a life-changing windfall for investors who know where to look.
Sign up for SMS so you never miss special events, exclusive offers, and weekly bonus trades.
Luckily for you, we're up to date on the latest and greatest 5G stocks to buy.
Below, we have the two best 5G stocks to buy this week. Our Money Morning Stock VQScore™ system has even given both of them our highest possible score - meaning they're definite buys right now.
The Best 5G Stocks to Buy This Week, No. 2
Our first pick is International Business Machines Corp. (NYSE: IBM).
You already know this American information technology firm as a computing pioneer with operations in roughly 170 countries.
IBM has been at the forefront of the IT industry for over 100 years. And it originally started as a record-keeping company in New York. Nowadays, it has its hands in everything from nanotechnology to computer hardware, software, AI, cloud computing, network management, semiconductors, and 5G.
This means literally everything the company does will be directly impacted by 5G. In fact, nanotechnology is poised to make 5G phones even faster. The company's semiconductors are already being used by a variety of major companies. It even has a deal with Vodafone Group Plc. (NASDAQ: VOD) to manage its 5G networks.
IBM is also partnered with big companies like United Continental Holdings Inc. (NASDAQ: UAL), Apple Inc. (NASDAQ: AAPL), Exxon Mobil Corp. (NYSE: XOM), and Walmart Inc. (NYSE: WMT) for AI, cloud services, network service management, semiconductors, 5G networks, and more.
5G Could Mint a New Wave of Millionaires: The greatest tech shift in generations could be about to create untold wealth for investors. To find out how you could capture a life-changing SIX-figure windfall, go here now.
Not only is IBM tapped directly into the coming 5G revolution, it's a fantastic stock to buy right now.
Its steady growth in combination with its experience and history means it makes more than enough to reward its shareholders. In Q1 2019 alone, IBM made $18.18 billion in revenue and $1.6 billion in net income. And the company gives that back to shareholders with a handsome 5% dividend yield.
Plus, shares are poised to break out soon, especially once 5G explodes.
Its current EPS is $3.07, but by December, Nasdaq expects it to jump to $5.09. IBM's shares currently trade for $128.27. But they're forecast to jump to $173 over the next year. That's a great 33.34% upside. Plus, it has a perfect VQScore of 4.75, which means this 5G stock could jump even higher. Money Morning believes Wall Street is seriously underestimating it.
But our top pick has a potential 61% upside...
The Best 5G Stocks to Buy This Week, No. 1
Join the conversation. Click here to jump to comments…
About the Author
Daniel Smoot is a Baltimore-based editor who helps everyday investors with stock recommendations and analysis. He regularly writes about initial public offerings, technology, and more. He earned a Bachelor's degree from Towson University.