It's been three weeks since Luckin Coffee Beijing Co. Ltd. (NASDAQ: LK), the second largest coffee chain in China, went public on May 17. The stock opened at $17 per share. Since then, Luckin Coffee's stock price has increased by 11.94% to $19.03.
But investors shouldn't buy Luckin Coffee stock after the IPO. There may be some underlying potential for the stock, but right now, it's best avoided.
Here's why...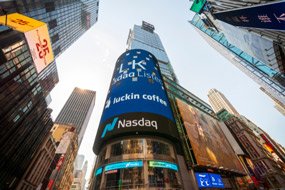 Luckin Coffee is a huge chain that has seen massive growth in the 19 months it has been up and running. In 2017, Luckin Coffee consisted of a single store. By 2019, that number had skyrocketed to 2,370 stores in 28 cities. Within the year, the company says it'll have 2,500 more stores.
Because of Luckin Coffee's crazy growth, it's often referred to as the "Starbucks of China."
However, there's a bit more you should know about the young coffee chain.