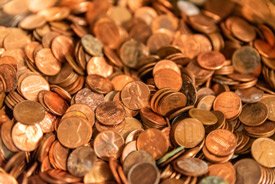 May was a horrible month for stocks with all major indexes down significantly. The Dow and S&P 500 both slipped roughly 6% for the month.
But it was just one month…
Those that are successful in the market understand that it takes more than a month to identify the right stocks to buy and make big money on Wall Street.
And right now, conditions are ripe for a rebound.
We are already seeing the "risk-on" trade back in play in the early days of June.
The trigger this time is an expected rate cut by the U.S. Federal Reserve that's helping offset worries about tariffs and trade wars with China and Mexico.
The trade war news matters little in the long term, especially if the focus remains on the fundamentals.
Get Ready for 5G NOW! A single company could be about to corner the entire 5G market – and you could turn every $1,000 you stake into $10,000! Go here now to find out how.
Companies with the best fundamentals trading at the lowest prices will generally outperform the market over the long haul.
That's where the Money Morning Stock VQScore™ system comes in. It identifies stocks perfectly positioned to take off.
And if we want the ultimate risk-on trade, we should turn our attention to the penny stock space.
That's where we can go big-gain hunting using the VQScore to bring us the "Best in Breed" penny stocks to turbo charge our portfolios.
Here are the top three penny stocks to buy now...
"Best in Breed" Penny Stocks to Buy in June 2019, No. 3: AK Steel
Something is amiss in the market.
Thanks to the trade war with China, steel stocks have plummeted.
Does that make any sense?
Without steel there is no economy.
Why then is the entire sector behaving as if every single steel stock is headed for bankruptcy?
Enough is enough.
The VQScore has just identified AK Steel Holding Corp. (NYSE: AKS) as having its highest score. And with a price just below $2 per share, there is tremendous upside.
Analysts expect AK Steel to make $0.44 per share this year. At current prices, shares trade for a measly four times estimated earnings.
While estimates foresee a slight earnings decline next year, the focus needs to be on the future.
When the trade war dust settles, and it will, AK Steel will take off.
Earnings doubling to $0.80 cents per share is plausible. Put a 10 multiple on those earnings and you have an $8 stock.
That's why AK Steel is a "Best in Breed" penny stock to buy now…
"Best in Breed" Penny Stocks to Buy in June 2019, No. 2: Denbury Resources
In addition to the drop in stock prices in May, crude oil prices tumbled as well.
Someone forgot to tell the gas station.
Just in time for summer, gas prices are stuck on high.
The strength in the economy (and not worries about the impact of a trade war) should be the focus for long-term investors.
If gas prices are high, it's likely because demand for crude is high.
So it can be argued that crude prices are artificially low because of trade and tariff noise.
The VQScore ranks oil and gas company Denbury Resources Inc. (NYSE: DNR) as a "Best in Breed" penny stock to buy now.
How often can you buy a $600 million market-cap stock for less than three times estimated earnings?
Not very often.
Denbury is expected to make $0.47 per share this year and the next.
The lack of growth today is not the issue. Growth will come.
Buy this penny stock now for big gains down the road.
Now, here's our no. 1 penny stock to buy in June 2019…
"Best in Breed" Penny Stocks to Buy in June 2019, No. 1: ASE Technology