The Dow Jones Industrial Average looks flat as global trade tensions persist.
Despite a recovery period over the last couple of days, DJIA growth will continue to be slowed by U.S. relations with trading partners China and Mexico.
Also moving the Dow today: rising oil prices and big layoffs at International Business Machines Corp. (NYSE: IBM). Read on for details.
Here are the numbers from Thursday for the Dow, S&P 500, and Nasdaq:
| | | | |
| --- | --- | --- | --- |
| Index | Previous Close | Point Change | Percentage Change |
| Dow Jones | 25720.66 | +181.09 | +0.71 |
| S&P 500 | 2843.49 | +17.34 | +0.61 |
| Nasdaq | 7615.55 | +40.08 | +0.53 |
Now, here's a closer look at today's Money Morning insight, the most important market events, and stocks to watch.
The Top Stock Market Stories for Friday
Sign up for SMS so you never miss special events, exclusive offers, and weekly bonus trades.
The United States and Mexico continue to haggle over a trade deal to prevent new tariffs on Mexico's imports to the U.S. Discussions stretched deep into Thursday as Mexico appears to have responded to threats of new tariffs by increasing its military presence on its southern border with Guatemala. President Donald Trump has threatened tariffs against Mexico if it doesn't do more to reduce the flow of illegal immigration across the southern border of the U.S. The sectors hurting most from these developments could be electronics and automotive. But electronics also has a safe haven in this booming industry.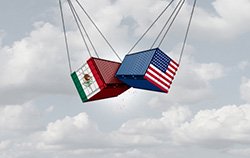 This morning's jobs report fell well short of the projected 180,000 new jobs anticipated by analysts for May. Instead, the economy added just 75,000 new positions, while the unemployment rate hovered near a 50-year low. The U.S. Labor Department also downwardly revised job additions for the months of March and April. Expect markets to now shift their attention back to ongoing tensions between the United States and China as investors grow increasingly more concerned about the expected slowdown in the global economy.
Oil prices ticked slightly higher as traders cheered to the latest news out of Saudi Arabia. WTI crude gained 1.3%, while Brent crude added another 1.4%. Saudi Arabia hinted that OPEC will extend its agreement to reduce production output in order to support global crude prices. The nation's oil minister has said that $60 per barrel is too low to encourage further investment in the sector.
Stocks to Watch Today: IBM, BKS, AMZN, TLRY, NEPT
International Business Machines Corp. (NYSE: IBM) announced plans to lay off more than 1,000 employees as the firm continues to transition to more profitable business lines. The company is currently in the process of purchasing Red Hat Inc. (NYSE: RHT) as it pursues an avenue to compete against other cloud computing giants.
Barnes & Noble Inc. (NYSE: BKS) stock popped another 10% this morning after new details emerged about plans to take the company private. Yesterday, shares rallied nearly 30% on word that Elliott Management planned to purchase the book store chain for $683 million, including its debt. The activist hedge fund is paying a 43% premium to the company's 10-day weighted volume average closing share price. The company continues to face increased pressures from Amazon.com Inc. (NASDAQ: AMZN) and other online retailers that have reshaped the U.S. economy over the last decade.
Shares of Neptune Wellness Solutions Inc. (NASDAQ: NEPT) popped more than 10% after the firm signed an agreement with cannabis giant Tilray Inc. (NASDAQ: TLRY) to offer purification and extraction services. As part of the deal, Neptune will process a minimum of 125,000 kilograms of cannabis.
Friday will be a quiet day of earnings reports. No major U.S. companies have confirmed that they will release earnings today.
5G Could Mint a New Wave of MILLIONAIRES!
It's the greatest tech shift in generations, and it can create untold wealth for investors.
If you ignored weed, or crypto - DO NOT miss out again. This could be your LAST shot at early retirement.
Find out how you could capture a life-changing SIX-figure windfall from 5G right now.
Follow Money Morning on Facebook and Twitter.