Every single day, investors overreact to bad news. Sometimes individual stocks fall after poor earnings reports. Sometimes the entire market dips on bad macroeconomic news.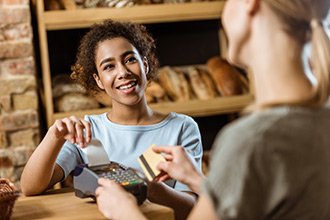 That might not matter much if it's a small swing, or if the stock in question is doesn't have great long-term prospects. But when it's a company that 1) has a strong track record and solid projections, 2) is tapped into major growth sectors like cloud services, the Internet of Things, and artificial intelligence, and 3) is massively undervalued, then it's a perfect opportunity to make some serious money on the market's mistake.
Brace Yourself: The 5G revolution is unleashing your next potential TRILLION-DOLLAR opportunity – go here now.
That's the case with the small-cap stock we're bringing you today. It's one of the world's top providers of technology products, including barcode, point-of-sale, security, and cloud services.
In spite of this company's solid fundamentals, investors scrambled for the exits last month, pushing shares down more than 20% in eight trading days.
Perhaps the plunge was in anticipation of a weak earnings report, which came out a few days after the share price started to fall.
And yes, the company did miss earnings estimates…
By one cent.
Investors who sold on that news absolutely missed the bigger picture.
Earnings were still 13% higher than the same quarter a year ago. And if projections hold up, the 2019 fiscal year (ending in June) will be the sixth straight year of higher sales and earnings per share (EPS).
The drop in share price was more than just an overreaction by skittish investors. In fact, this stock was undervalued to begin with. By at least one metric, it's worth over 65% more than its current price.
That's confirmed by our Money Morning Stock VQScore™ system, which just gave this stock a top score.
And for now, you can get it for less than $35 a share…
This Small-Cap Stock's Size Hasn't Kept It from Developing a World-Class Reputation
Join the conversation. Click here to jump to comments…
About the Author
Stephen Mack has been writing about economics and finance since 2011. He contributed material for the best-selling books Aftershock and The Aftershock Investor. He lives in Baltimore, Maryland.