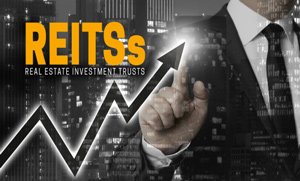 If you're looking to make north of 20% on your money each year, you need to know the top REITs to buy.
Real estate investment trusts provide investors with a mouth-watering combination of strong dividends and share price appreciation, creating a one-two punch that can give you market-beating returns every year.
Of course, overzealous investors are more interested in chasing the hottest tech stock or IPO rather than doing what the "smart money" private equity firms do - which is invest in real estate assets.
We can't blame retail investors - there are more than 225 REITs registered with the SEC that have a combined market capitalization of more than $1 trillion.
7-Day Cash Course: With the secrets in this video series, you could potentially start collecting anywhere from $1,190, $1,313, and even $2,830 in consistent income - each and every week. And it can be yours for only $1...
Knowing where to start and what to buy can be extremely difficult to decide. But lucky for you, we have a secret weapon...
To determine the best REITs to buy, we use the Money Morning Stock VQScore™. This proprietary ranking system tracks 1,500 of the profitable companies in the world and assigns each a score from 1 to 4.
The higher the ranking, the more likely the stock is poised to shoot to the moon.
Today, we uncovered the top three REITs to buy in June 2019.
Each REIT has a monster dividend, significant share price upside, and a VQScore that signals a big return in the second half of 2019.
Here we go...
Top REITs to Buy No. 3
The first REIT to buy is Summit Hotel Properties Inc. (NYSE: INN) - a hotel operator with 69 properties and 10,714 guestrooms in 24 states.
Markets reacted with some optimism after the firm announced plans in April to sell six hotels and their 815 guestrooms for $135 million.
The company ended up with a $36.6 million gain from the sale of properties in Boston, Minneapolis, Dallas, Salt Lake City, and St. Paul.
With that, INN recently earned a VQScore of 4.75, which signals the stock is poised to break out soon.
Additionally, Summit Hotel Properties pays a 6.15% dividend - a stable source of income in a market that now expects the Federal Reserve to cut interest rates.
Given its emphasis on streamlining the balance sheet and its portfolio of solid properties, the company's stock has a price target of $16 per share.
That figure represents a potential upside of 37% from Wednesday's closing price.
Top REITs to Buy No. 2
The next company to own is Brookfield Property REIT Inc. (NYSE: BPR), a world-class firm operating under the banner of Brookfield Asset Management Inc. (NYSE: BAM).
This is important because Brookfield has a distinct advantage over other REITs through its unique ownership structure.
The business has access to deep-pocketed, institutional investors who flock to real estate as an income-generating asset in good times and bad.
Brookfield is notorious for its ability to leverage private equity real estate funds that operate value-added properties and generate significant cash flow. Annual returns for those sorts of funds routinely fall in the neighborhood of 20% per year.
Through both joint and solo ventures, the Brookfield Property REIT operates 125 premier U.S. retail properties with about 121 million square feet of total leasable area.
A few of its premier properties include 85 Fifth Avenue and 530 Fifth Avenue in Manhattan, 605 North Michigan Avenue in Chicago, and the Augusta Mall in Georgia.
Of course, its street address isn't as valuable as its VQScore, which sits at a stellar 4.75. This figure signals a big uptick on the horizon, especially as the Fed evaluates monetary policy.
The Brookfield Property REIT pays a healthy 7% dividend and has significant upside given its commitment to premier properties that attract high-end anchor stores and considerable foot traffic...
We think the firm will be worth $27 per share, which represents an upside of 45% in the next 12 months.
Top REITs to Buy No. 1
Finally, our top REIT to buy is Whitestone REIT (NYSE: WSR). This cash-churning property manager pays a massive 9% dividend and has steep upside in the coming year.
Shares have declined since February thanks to speculation of rising rates and ongoing concerns about the broader U.S. economy.
However, at this price and with this yield, the stock provides a defensive fortress for investors who understand the value of premier properties and shifting demographics. Its portfolio consists of 69 commercial properties, with a significant focus on the booming Texas real estate market.
It owns 15 properties in Houston, five properties in Dallas-Fort Worth, three properties in San Antonio, and four properties in Austin. The firm also has 27 properties in the Scottsdale and Phoenix metropolitan areas.
The Whitestone REIT also has a 4.75 VQScore, signaling that the stock is on the verge of a breakout in the second half of the year.
Should the Fed cut rates to support the economy, it would be a boom for real estate companies and the consumer discretionary firms that they count as customers.
Whitestone REIT has a price target of $20 per share. That figure represents an upside of 59% from Wednesday's closing price.
This Seven-Day Cash Course Could Help You Turn $1 into Thousands
This is your chance to amass a life-altering fortune, week after week. People have paid up to $30,000 for this proprietary system... but you only have to pay $1. The value of a system's worth shouldn't be based upon how much it costs - instead, we'll let the results do all the talking. See for yourself...
Follow Money Morning on Facebook and Twitter.